Electric toothbrushes have soared in popularity over the years, and with good reason. They offer numerous benefits and can make brushing more efficient and fun.
Electric toothbrushes are highly recommended by dentists, and they can be an excellent way to maintain good oral hygiene. But if you're new to using an electric toothbrush or are thinking about switching from a manual brush, you might feel a little confused about how to use it.
Using an electric toothbrush is similar to a manual toothbrush, but instead of the consistent back-and-forth motion, you can let the electronics do the work—let the brush glide across your teeth and do all the cleaning for you!
The Benefits of Electric Toothbrushes
Brushing your teeth every day is one of the most important steps to taking care of your dental health. But that doesn't mean it's always the easiest thing in the world to do! This is why electric toothbrushes exist—to make your dental care routine as easy as it can be.
Electric toothbrushes come with several advantages that can make your brushing routine more effective:
They can be more efficient. Electric toothbrushes tend to be better at removing plaque since the bristles move quickly and effectively.
They're easy to use, especially for people with limited mobility or any condition that makes brushing their teeth more difficult, making them suitable for nearly everyone.
Many models come with built-in timers to ensure you brush for the recommended 2 minutes.
Electric toothbrushes can even be fun for kids! After all, who doesn't want to play with a new electric toy when they're young? This novelty may even encourage your child to brush their teeth more regularly.
While manual toothbrushes can be just as effective, electric toothbrushes may offer a more thorough clean, making them a great choice for your oral hygiene routine.
How to Properly Use Your Electric Toothbrush
Using an electric toothbrush is easy when you know how. Here are some simple steps:
Apply a pea-sized amount of toothpaste onto the bristles. Don't turn it on yet—it'll splatter the toothpaste everywhere!
Place the toothbrush in your mouth, then turn it on.
Hold the toothbrush at a 45-degree angle against your teeth and gums.
Gently glide the toothbrush over your teeth, letting the brush do the work.
Make sure to thoroughly brush every part of your teeth.
Remember, don't press too hard. The brush should do most of the work for you, so there's no need for too much pressure.
Do You Have to Brush Back & Forth with an Electric Toothbrush?
We're all used to the back-and-forth motion needed to brush our teeth with a manual toothbrush. But with an electric toothbrush, you don't need to do this motion anymore. Instead, simply guide it along each tooth's surface, letting the brush's vibrating or rotating motion do the cleaning for you.
It might take some time to get used to the idea of not needing to scrub your teeth yourself. But after a while, it'll probably feel unusual to use anything other than your electric toothbrush! If you find it's more comforting to keep doing the motion though, feel free—you aren't going to do any damage as long as you don't use too much pressure.
How to Use an Electric Toothbrush with Braces
If you have braces, an electric toothbrush can be a game-changer! The process is similar to regular brushing, but be sure to clean around the brackets and wires thoroughly. Some models even offer special heads designed for braces, making your cleaning routine even easier.
If you're worried about damaging your braces, book an appointment with your dentist for a personalized recommendation. They can offer their professional advice on different heads, brands, or sets to let you know which type of brush could work best with braces.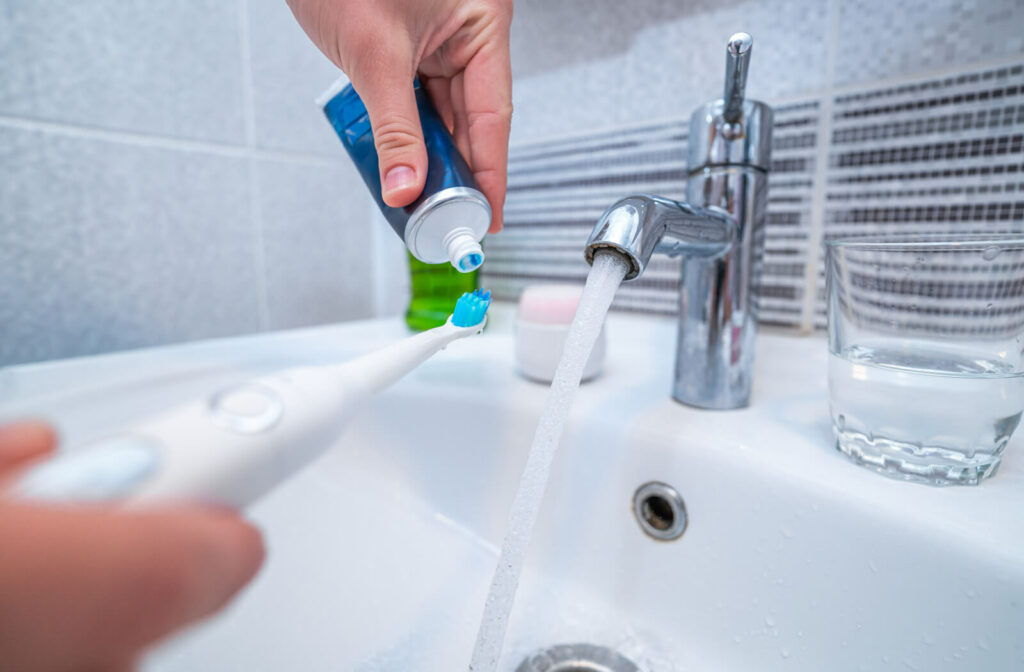 Are There Any Downsides to Using an Electric Toothbrush?
While electric toothbrushes are fantastic, they aren't perfect. Like most things, electric toothbrushes may have a few downsides:
They're more expensive than manual brushes
You'll need to replace the heads regularly, which can add to the cost
They require charging or batteries
They're less portable due to their size and charging needs
However, many find that the benefits outweigh these minor inconveniences.
Should I Get an Electric Toothbrush?
Electric toothbrushes are an excellent tool for maintaining your oral health. However, they can't replace regular dental visits. Your teeth are an important part of your life, and regular visits to your dentists help keep your teeth and gums healthy and strong.
So, while we encourage you to consider an electric toothbrush, we also remind you to schedule your regular checkups with us. We're here to help you every step of the way in your journey to keeping your teeth strong, so request an appointment with Otara Dental today!