Having a healthy, shiny smile takes a little bit of maintenance. But the good news is that better oral hygiene is something we can all take part in. Here are 5 tips that will leave your teeth feeling and looking healthy.
Preventing oral diseases does take the help of a dentist, too. So follow these steps and make sure you book your regular dental exams and cleanings. Your habits at home can make a big difference in the way your smile shines!
Brush Twice Daily
It's what every dentist has told us since we were children: brush your teeth every single morning and night. So listen to your dentist! As we eat and drink, and even breathe, bacteria enters our mouth and sticks to our teeth. This film is known as dental plaque and leads to cavities and other complications when left unattended.
The Canadian Dental Association (CDA) recommends brushing your teeth twice daily for 2-3 minutes each time.
When to Brush Your Teeth
The purpose of brushing is to remove plaque, which can cause oral conditions when it's not cleaned off. Brushing your teeth in the morning removes bacteria that accumulated during your sleep. Brush your teeth at the end of each day, before going to bed, and after you are finished eating for the day.
Here are some other tips regarding toothbrush timing:
Wait 30 minutes after eating before brushing.
Resist rinsing with water immediately after brushing. Spit out any excess toothpaste instead.
Replace your toothbrush every 3 months with a new one.
Proper Brushing Technique
Make use of those daily brushes by using a proper technique. It's not a difficult skill to learn, but the right way to brush will make all the difference.
Make sure to use a soft-bristled brush that can reach the very back of your molars.
Hold the brush at a 45-degree angle where your teeth meet your gums. Brush in gentle small circles or back/forth motion. Hard scrubbing can lead to gum recession.
Brush every surface. This means the chewing surface of each tooth, the cheek side, and the tongue side. The whole process should take about 3 minutes.
Brush your tongue. Bacteria builds up on our tongues as well.
Focus on Flossing
Brushing regularly is only part of the equation. We've got to clean between our teeth, too! Floss at least once daily to remove plaque and reduce gum disease and bad breath. There are cracks and crevices amongst our teeth that a toothbrush just can't get to; almost ⅓ of our tooth's surface can only be reached with floss.
Proper Flossing Technique
Flossing is just as important as brushing for healthy oral hygiene. There's also a recommended technique for effective flossing.
Start with a length of floss as long as your arm and wrap the ends around your middle fingers, with a 2-inch gap of floss between your hands.
Using your index fingers as guides, slide the floss between each tooth creating a "C" shape around the base.
Floss both sides of every tooth and softly floss under the gumline. Slide the floss from the base to the tip of each tooth 3 times.
Water flossing
Many patients can also benefit from use of a water flosser. If used correctly a water flosser can be used in place of traditional floss. For more details see Dr. Sherry's waterpik demo on our website https://otaradental.ca/video-tutorials/.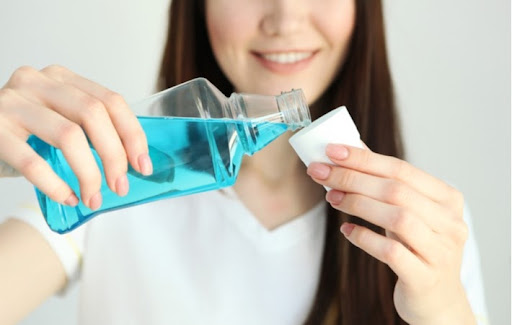 Consider Using Mouthwash
One more step in the total at-home oral care routine is using an oral rinse, also known as mouthwash. Mouthwash is a supplementary step in maintaining great oral hygiene that kills mouth bacteria and prevents plaque and gum disease. For best results, use mouthwash right after brushing and flossing.
On top of the health benefits, mouthwash can also help eliminate bad breath. Never use mouthwash as a substitute for brushing or flossing, but a quick rinse is good on the go for fresh breath. Look for a mouthwash with the CDA Seal for a product that Canadian dentists approve.
Proper Mouthwash Technique
Just like flossing and brushing, there's a right way to use an oral rinse. Follow these steps for the best results.
After brushing, place about 25 ml of mouthwash into your mouth. Most mouthwash products come with a pre-measured cup.
Swish the rinse around in your mouth, from side to side and front to back. Gargle the mouthwash at the back of your throat. The entire rinse should last about 30 seconds.
Spit it out. Mouthwash isn't meant to be ingested and can be uncomfortable for some people. Avoid rinsing with water immediately after.
Drink Water Regularly
Drinking water has so many benefits for the body and helping your oral hygiene is one of them. The main contributor to tooth decay is sugars and food particles that turn into plaque when bacteria begin feeding on them. Drinking water regularly helps wash these particles away and keeps teeth cleaner between brushings.
Staying hydrated also keeps your mouth moisturized and helps to neutralize any leftover acid from food and drinks. MyHealth Alberta recommends that each adult drinks a minimum of 2 litres of water each day.
Enjoy a Teeth-Friendly Diet
Try to have some balance between eating the foods you love and respecting your precious smile. High-sugar foods and overly starchy foods are prone to increasing plaque, which in turn can lead to tooth decay and cavities. Here are some tips for reducing sugar in your diet and selecting a tooth-friendly menu. A balanced diet also provides the nutrients vital for healthy tooth growth, such as calcium, phosphorus, and vitamin C.
Reduce Alcohol & Smoking
Even if you enjoy smoking or drinking, your teeth do not. Alcoholic beverages contain a high amount of sugar, which we know is not great for oral hygiene. Smoking or vaping can lead to enamel damage and teeth staining. These lifestyle choices can harm your oral health, so put it all in perspective when you're enjoying a night out.
Happy At-Home Oral Hygiene
Following these oral hygiene practices will help you preserve a smile that can last a lifetime. Consistent brushing and flossing are an integral part of successful oral health. And make life easy on your teeth with lots of water and a smile-conscious diet.
No oral hygiene routine is truly complete without a visit to the dentist every 6 months. So keep up your oral hygiene habits and book your next appointment with a dental professional. Your smile will thank you!