Have you ever heard the terms "crown" or "bridge" at the dentist's office? Many people know these words are associated with dentistry, but what do they mean? Let's understand what both dental crowns and dental bridges are, and when they're commonly used.
Damaged or missing teeth should never be left exposed. If you require restorative dentistry or need a root canal, chances are you'll need a dental solution that will last a while. Both crowns and bridges are considered permanent fixes for your smile.
Book an appointment to set up your next dental exam and cleaning at Otara Dental. And make sure to contact us right away if you have undergone trauma and require emergency dental care.
Understanding Dental Crowns
A dental crown is a cap that covers a damaged tooth. This protective top fits over the peak of the tooth, like a crown on a queen's head. Crowns are secured in place with cement to parts of the original tooth and act to restore the shape, strength, and function of the natural tooth.
Traditional crowns cover your entire tooth and are shaped to simulate your natural bite. The remaining parts of your tooth are usually filed down so the crown fits properly. The appearance of a dental crown depends on the type that is selected for insertion.
Types of Crowns
Crowns are available in a variety of materials, which vary by strength, durability, cost, and aesthetics. The most common types of dental crowns include:
Metal crowns, usually made of gold or gold alloy, although palladium, nickel and chromium are also used. Metal crowns are very durable and hard to chip. These crowns have a metallic appearance and do not look natural.
Porcelain crowns can be very natural-looking but are not the strongest option. A typical choice for crowns on front teeth.
Porcelain-fused-to-metal crowns are a combination of both materials. They possess nearly the strength of an all-metal crown but have the appearance of a natural tooth.
Composite crowns that combine a top porcelain layer with other synthetic materials in a stronger base. These are also more durable than an all-porcelain crown.
Resin crowns, which are mostly used as temporary crowns until a permanent crown has been manufactured. These crowns are the weakest and least durable.
Understanding Dental Bridges
Dental bridges are artificial teeth that fill a space in your smile; they "bridge" the gap. Bridges can be used for a single missing tooth or multiple spaces between your teeth. This false tooth, called a pontic, is secured to the teeth beside it using special crowns over the adjacent teeth, called abutment teeth.
A bridge is designed to match the appearance of your natural teeth. They are also referred to as fixed dental prostheses and are designed to be a long-term restorative dental solution.
Types of Bridges
There are 4 types of dental bridges most commonly used in today's dentistry. They include:
Traditional Dental Bridge: after abutment teeth have been covered with special crowns, a traditional bridge is secured in place, with the false tooth filling the space. This is the most common type when natural teeth exist on either side of the space.
Cantilever Dental Bridge: this is done in the same way as a traditional bridge but with only 1 abutment tooth being used. The bridge is secured on only 1 side of the space. These are not usually recommended.
Maryland Dental Bridge: this type also anchors on both sides of the false tooth, but the bridge is secured by a framework that attaches to the back of the abutment teeth as opposed to using crowns.
Implant-Support Dental Bridge: a type of bridge that uses dental implants to secure the false tooth. Implant-supported bridges are very secure but require surgery and more time to complete.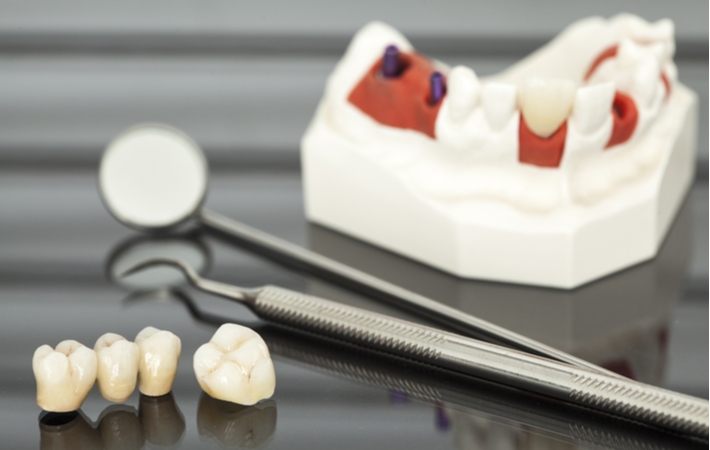 Do I Need a Crown or a Bridge?
There are several reasons you may require some dental work beyond a routine cleaning. Now that you understand the difference between a bridge and a crown, let's discuss what situations call for each procedure.
When You Need a Dental Crown
Dental crowns fit over damaged teeth to strengthen a tooth damaged by impact or decay. You need a crown when a tooth must be covered to protect it from further damage. Some of the reasons your dentist might recommend a crown include:
Covering a tooth with a large filling (like after a root canal)
Restoring a broken tooth that has been cracked or otherwise severely damaged
Improving the strength of a tooth that has a significant crack
Protecting and strengthening a tooth affected by decay
Holding a bridge in place with crowns over abutment teeth
Covering a tooth that has unwanted discolouration or for aesthetic reasons
When You Need a Dental Bridge
The primary purpose of a bridge is to fill a gap between your teeth when 1 or more teeth are missing. You need a bridge when a tooth has been knocked out or removed. Some of the reasons your dentist might recommend a dental bridge include:
Restoring normal chewing abilities, and distributing bite force more evenly
Improving speech abilities and normal talking functions
Returning your smile back to your natural look
Preventing abutment teeth from shifting out of their normal position
Maintaining the natural shape of your face and mouth
Restoring Your Beautiful Smile
Whether you require a bridge or a crown, both dental procedures are going to improve the function of your mouth after teeth have been damaged. A crown covers a tooth that is damaged but still remains intact. A bridge fills a gap with a false tooth when the original tooth is missing.
Getting either a crown or a bridge can improve your confidence. They restore your smile to its original beauty and help you speak normally. If you require restorative dentistry or want to make sure your teeth are healthy, you can schedule an appointment with our team at Otara Dental.