A missing tooth can make it harder to speak and tougher to eat. A gap in your teeth might be affecting your confidence. There are several ways a dentist can restore your smile, but dental implants are one of the most permanent solutions.
Whether a space in your smile is the result of a dental emergency or planned tooth removal, implants might be your best choice for replacement. There are lots of reasons why dental implants can work for you and a few things to consider before getting them.
Discuss your smile solutions during your next dental exam and cleaning or book a same-day appointment at Otara Dental to get back your pearly whites.
What Are Dental Implants?
Dental implants are artificial teeth attached to your jawbone. Dental implants may be recommended when teeth have been knocked out or must be completely removed. The aesthetics and function of dental implants are virtually the same as natural teeth.
Getting dental implants is a surgical process that involves inserting metal posts into your jawbone. These posts simulate a natural tooth root. A replacement tooth is then placed over the post with an abutment, filling the gap. Dental implants are designed to last the rest of your life, but it does take several months to complete the entire procedure.
Why Choose Implants Over Dentures?
An alternative artificial tooth replacement is dentures. Dentures and dental bridges also simulate the function of teeth that are missing. But if you can be patient through the process, dental implants have several advantages:
Dental implants are designed to last a lifetime if they are taken care of properly
Do not move since they are anchored to the jawbone
Provide more comfort on the gums as compared to partial dentures/dentures
Superior ability to eat and speak
Reasons to Get Dental Implants
People who are generally healthy and without existing bone conditions are typically eligible for dental implants. Dental implants are for people who have a space in their smile where natural teeth used to be. You can receive dental implants to replace teeth that have been knocked out or for planned removal due to tooth decay and other complications.
The best way to ensure you qualify for implants is to schedule an appointment with one of our dentists at Otara Dental. You're a likely candidate for dental implants If you can answer yes to all of the following conditions:
You are missing one or more teeth or plan on having teeth removed
You are healthy or have controlled medical conditions
Smoking increases risk of implant failure, non-smokers will have the best long-term success with dental implants
You have a healthy, fully-grown jawbone
You have healthy oral tissue (gums)
You have adequate bone to secure the implants or can receive a bone graft
You can commit to the entire process that will take several months
Bone Grafting & Implants
Not having enough bone mass in your jawbone doesn't automatically make you ineligible for dental implants. But enough bone must exist to properly secure the surgically installed posts. This can be accomplished with a dental bone graft.
Bone from another part of your body, or synthetic bone, can be grafted to your jawbone to increase bone mass where the dental implant posts will be anchored. This may increase the timeline for the dental implant process but will allow your new teeth to stay in place as expected.
Reasons To Avoid Dental Implants
There are some reasons to avoid dental implants. Unfortunately, some patients have a higher chance of complications. A discussion with your dentist is the best way to know if you qualify for implants. You are not an ideal candidate for dental implants if:
You have a health condition affecting bone healing, including osteoporosis
You do not have adequate bone mass in the jaw and cannot receive a bone graft
Smoking increases risk of implant failure and complications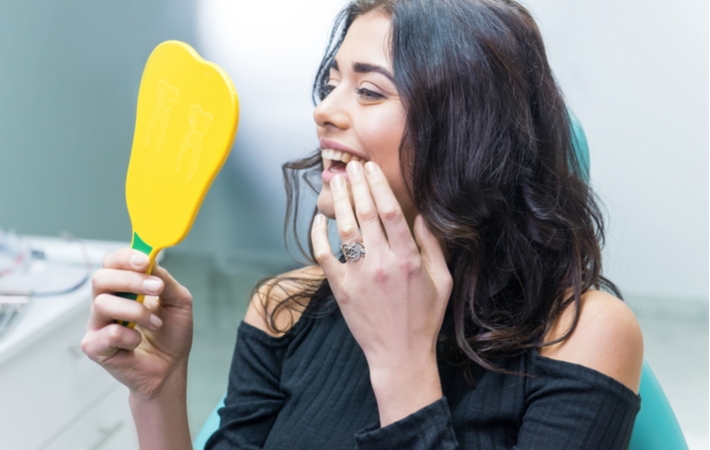 Dental Implant Procedures
Patients must be patient for a successful dental implant procedure. Due to the surgery required for dental implants and the recovery process your body needs, the entire process will take several months.
A dental implant is usually divided into the following steps:
Your dentist performs a detailed examination and takes x-rays and impressions of your mouth. This determines if you are a qualified candidate for dental implants.
The titanium post is surgically anchored into your jawbone. Expect a recovery period of several months following surgery.
You return to the dentist for follow-up and the replacement tooth is placed on the posts with an abutment. The new tooth is fitted to match your bite and the shape of your original tooth.
Implants can be completed for a single tooth or entire upper and lower dental arches. You can expect to eat, speak, and smile naturally after dental implants have been successfully installed.
A New Smile That Lasts
Most people can receive dental implants to fill the gap that a missing tooth has left. Some health complications make implants a poor choice, but healthy patients can often move ahead with this restorative dental procedure.The only way to make sure that your smile is ready for dental implants is to have your dentist perform a thorough examination. Dental implants are a permanent solution. So don't let missing teeth change your lifestyle. Schedule an appointment to get back your fully functioning smile!