For some people, a trip to the dentist for a simple procedure can cause a large amount of anxiety. There are also times when dental procedures are more complex, and require mild sedation to manage anxiety.
Your dentist may recommend mild sedation if you experience dental anxiety so that any dental procedure can be tolerated. In most cases, the recommended sedation is laughing gas (nitrous oxide), a safe, mild form of sedation dentistry used for adults and children.
Laughing gas helps reduce anxiety, ensures the patient remains awake through their appointment or procedure, and can answer the dentist's questions and respond to requests.
If you're considering laughing gas for your next appointment or procedure, you may be wondering about its effects, and how long they will last.
At Otara Dental, we want our patients to feel as informed and comfortable as possible, and our experienced team will walk you through your sedation experience, step-by-step, ensuring you're relaxed and ready for your procedure.
The Facts About Laughing Gas
Laughing gas (nitrous oxide) is a mild and safe sedative often used in dentistry. But don't worry; despite the name, laughing gas won't make you giggle through your entire appointment.
Your dental professional administers this sedative by placing a small mask over your nose, and encouraging you to breathe and relax. As you breathe, you'll inhale a mixture of nitrous oxide and oxygen. Your anxiety will immediately diminish, calm sets in, and feelings of anxiety are significantly reduced.
Patients may experience tingling or a feeling of heaviness in their bodies, but this sensation is normal, and helps contribute to their peaceful, relaxed state.
Although laughing gas is a sedative, its use will not "knock you out" or put you to sleep. Its primary use is allowing patients to feel calm, but still able to respond to questions or requests from their dentist.
At the end of your appointment or procedure, your dentist will turn off the laughing gas, and you'll notice the sedation effects subsiding almost immediately. You will be put on oxygen to help you regain alertness more quickly.
It only takes a few minutes to return to your natural state of mind. Laughing gas is different from other forms of sedation, and it typically has no lasting effects.
Most patients can drive themselves home after their appointments, although dental staff may request they wait for about 15 minutes to ensure they're fully alert and ready to go.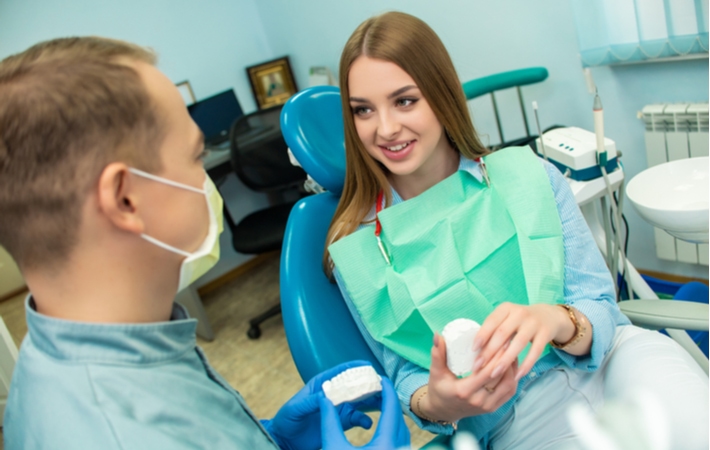 Should I Consider Laughing Gas?
Sedation dentistry offers a chance for patients with anxiety to receive the dental care they need. People who are fearful of dental work often avoid appointments, resulting in a need for more complicated and extensive treatment.
Laughing gas is exceptionally beneficial for those suffering from anxiety, and can also help in other scenarios, like:
A fear of needles: Needles are commonly used at dental offices to administer medications and numbing agents. Patients who experience needle-phobia may benefit from the relaxing effects of laughing gas.
Overactive gag reflexes: Patients with an overactive gag reflex may find laughing gas beneficial, as it helps relax the oral muscles and inhibit the gag reflex.
Fidgeting: Children and adults who are antsy or unable to sit still for extended periods can relax through the use of laughing gas, allowing the dentist to provide a thorough cleaning or treat dental concerns.
Smaller mouth: Laughing gas may help to relax the mouth's muscles, and make dental procedures that are longer more relaxing.
Several procedures at once: Laughing gas can help relax the patient, and reduce discomfort associated with more complex dental procedures.
When To Speak To Your Dentist
Although laughing gas is a safe and effective sedative, there are patients with certain medical conditions who may benefit from speaking with their dentist or a medical professional about other options:
Patients with COPD (Chronic Obstructive Pulmonary Disease): Patients with COPD may experience complications with nitrous oxide.
Patients with "narrow-angle" glaucoma or recent eye/retinal surgery are not candidates for nitrous oxide and need to consult their provider.
There are very few true contraindications to nitrous oxide use, all patients are evaluated prior to making any recommendations for sedation dentistry.
Side Effects of Laughing Gas
The majority of patients will not experience any side effects from laughing gas, but some patients may experience:
Chills
Shivering
Nausea
Vomiting
Headache
Sleepiness or fatigue
Sweating
Your dentist will administer oxygen following the use of laughing gas for your dental procedure. Oxygen helps clear the remaining laughing gas from the body, helps the patient feel more awake, and helps mitigate any potential side effects. Nitrous oxide is metabolized in the lungs and does not affect the liver or kidneys.
Learn More About the Benefits of Laughing Gas
Don't let anxiety or fear of being uncomfortable get in the way of proper dental care! Routine maintenance from an experienced professional can significantly reduce future dental concerns, and laughing gas may increase your comfort, helping make your life easier and healthier.
Laughing gas wears off easily, typically has no lasting effects, and patients can quickly return to a normal state after their procedure.
If you have questions or would like more information about sedation dentistry and the use of laughing gas, contact our incredible team at Otara Dental. We work hard to keep our patients informed, happy, and smiling.