You may have heard that you should change your toothbrush every three months, but is that really necessary? How often should you actually be swapping your toothbrush? And what happens when you clean with an old, frayed toothbrush?
Let's discuss how often you should replace your brush and what the benefits are to maintaining your mouth with the right cleaning tools. Of course, replacing your toothbrush and brushing regularly is in complement to professional dental cleanings.
Maintaining great dental health will help prevent cavities and gum disease. At Otara Dental in St. Albert, Alberta, we always want to help our patients maintain healthy teeth and gums. So schedule your next dental visit if it's been a few months.
How Long Does a Toothbrush Last?
Toothbrushes are designed to last between three and four months. According to the Canadian Dental Association (CDA), you should replace your toothbrush every 3 months or when it starts to show signs of wear or the bristles become splayed.
Bristles that shoot out in different directions or bristles that have split ends and look frayed are no longer doing their job. That's when it's time to swap out your toothbrush. Even if wear appears minimal, replace your brush at least every six months.
If you have braces, change your brush more frequently because of food particles that may be caught in hard-to-reach places around brackets and wires. New stiff bristles will make it much easier to dislodge this debris. You may also want to consider a special toothbrush for braces.
Why a Worn-Out Toothbrush Won't Clean Properly
As a toothbrush's bristles become worn, they lose their ability to clean teeth properly. An old toothbrush will not remove plaque and bacteria and may not help prevent gingivitis and other dental problems.
As a toothbrush is used day after day, the bristles begin to lose their stiffness. This stops them from digging into grooves and gaps in your teeth and offering a thorough clean. Old bristles can come loose and get stuck between your gums and teeth. And you may simply find discomfort using an old, worn brush.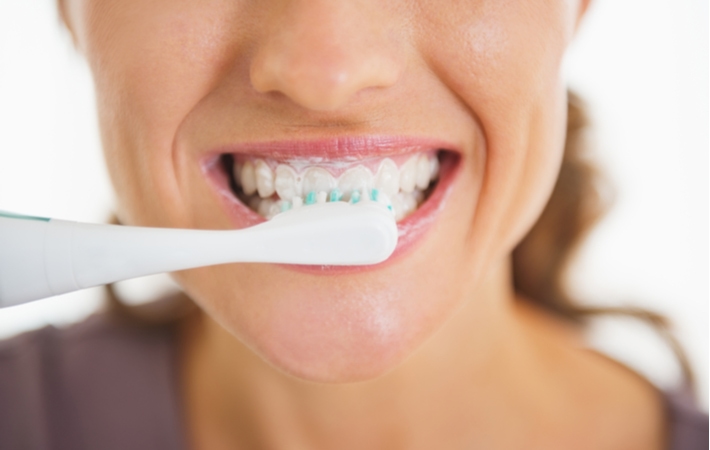 The Right Brushing Technique
There are certain things you should do when brushing your teeth. For example, you should use a soft-bristled toothbrush and brush at least twice daily (in the morning and before bed) for 2-3 minutes each time.
The CDA recommends the following method for a healthy cleaning each time:
Use short strokes on all surfaces of your teeth.
Clean the outer surface by placing bristles at a 45-degree angle toward your gums where they meet the tooth, gently sweeping away from the gum line in short strokes to remove plaque, food debris, and bacteria.
To clean between teeth, hold the brush vertically with bristles touching between two adjacent teeth. Move back and forth several times to dislodge any particles caught there.
Brush your tongue, including the back of your tongue.
Don't Forget to Floss
Flossing is an important part of oral care and should be done at least once a day. Flossing helps remove plaque and bacteria from between teeth and below the gum line where toothbrush bristles can't reach. Use these guidelines for proper flossing technique.
Both flossing and brushing are important steps in maintaining a healthy mouth. But bi-annual visits to your dentist are also essential for preventing tooth decay.
How to Properly Care for Your Toothbrush
After brushing your teeth, rinse your toothbrush off with water and store it in an upright position. Allow your toothbrush to air-dry between uses. If you share your bathroom with others, use a different colour for each person and do not share brushes.
You may want to consider a bristle cover for your toothbrush. Do not let your toothbrush:
Come into contact with other objects such as cups or rinsing devices
Stand in water
Be stored near the toilet
You Need Professional Brushing, Too
Replacing your toothbrush every 3 months is one of the things you need to do to keep your teeth healthy and protected. If you've recently been sick or notice your toothbrush bristles are frayed, discord your current brush.
Even if you brush your teeth twice a day and use the proper brushing technique, there are still areas of your mouth that may not be getting clean. That's why it's important to have a professional dental cleaning at least twice a year. During a dental exam, we can check for signs of decay and make sure that your oral routine at home is keeping things clean.
Let Otara Dental help your smile shine.