Food, drinks, and smoking can stain your teeth. Many people wish to brighten their smile using toothpaste, whitening strips, or professional treatment. If you're interested in whitening your teeth, should you see your dentist or try at-home products?
Continue reading to learn more about at-home and professional teeth whitening, and discover which option is best for your teeth.
Why Get Your Teeth Whitened?
A tooth's natural colour is between a range of light greyish-yellow shades. Your teeth are sensitive to staining, and different foods, drinks, and other factors can change their colour.
Some common teeth-staining food and drinks include:
Red wine
Coffee
Tea
Berries & fruit juices
Dark sodas
Energy & sports drinks
Tomato-based sauces
Soy sauce & balsamic vinegar
Sweets & candy
You're more likely to experience stained teeth if you smoke; tobacco products can change a tooth's appearance. Because tooth colour tends to change with time, someone may want to use whitening products to regain their old smile.
Teeth aren't naturally exceptionally white, but many desire a brighter smile. Some people may whiten their teeth to remove old stains and others to improve their confidence.
No matter the reason someone wishes to whiten their teeth, several options are available to help. These options include at-home and professional teeth whitening. Both use peroxide to whiten your teeth, but which option is best?
What Is At-Home Teeth Whitening?
At-home teeth whitening has several easy-to-use options, including whitening rinses and toothpaste and gel strips. Because these whitening methods are unsupervised by a professional, they contain lower amounts of peroxide (3 to 20%).
At-home options are generally less costly than professional treatment, but the results may not be as effective. People using peroxide-based products at home should use caution.
Longer-than-recommended usage can dehydrate your teeth and increase sensitivity, so ensure you're following whitening instructions correctly.
What Is Professional Teeth Whitening?
Professional teeth whitening occurs in-office with your dentist's supervision or using custom-made trays at home.
For in-office whitening, whitening solutions are typically stronger (15 to 43%) and more effective. In-office teeth whitening will likely give you visible results faster. The whitening solution is usually stronger than at-home treatments. However, this can lead to increased sensitivity and is much more costly for the patient. At our office, we do not offer in-office whitening.
Instead, we recommend custom-made trays with professional gel that you take home to use on your own. This yields comparable results to in-office whitening with less sensitivity and cost. You are seen by your dentist during the process to monitor results. The trays can be kept and used for touch-ups for many years if the trays are cared for properly.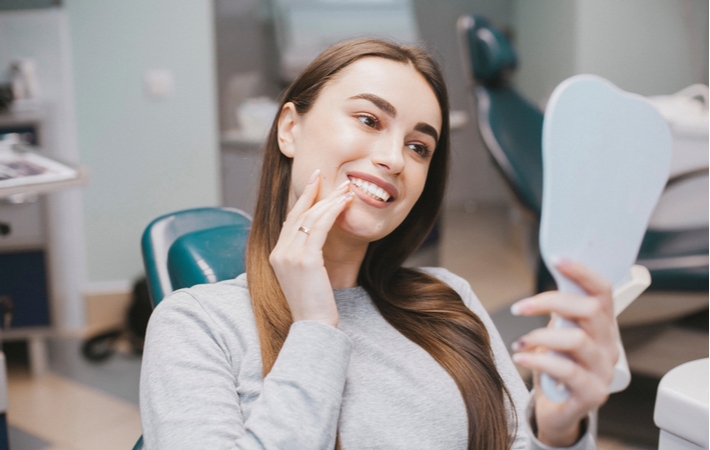 Is It Worth Getting Your Teeth Whitened at the Dentist?
Is going to your dentist for teeth whitening worth it? It can be if you want efficient treatment and reliable results. Cheaper, at-home treatments may seem intriguing, but professional whitening has several benefits, including:
Fast Results
In-office teeth whitening will likely give you visible results faster. The whitening solution is usually stronger than over-the-counter at-home treatments.
More Reliable Results
With an experienced professional monitoring your treatment, whitening is usually more reliable than other options. At-home over-the-counter whitening can be unreliable because you're completing the treatment yourself. With professional whitening, you have the help of an experienced dentist.
Increased Comfort
If you're undergoing teeth whitening, you may have some anxiety. Complications can happen, such as increased tooth sensitivity and irritation. Supervised whitening can be a more comfortable experience.
You can rest easy knowing your dentist is there to help brighten your smile. You can bring up any questions or concerns you may have.
If you're interested in over-the-counter tooth whitening, what are the best options?
What Is the Most Effective At-Home Teeth Whitener?
Whitening Toothpaste
All toothpaste is abrasive to help remove stains, but whitening toothpaste has added chemicals and polishing agents to help brighten your smile without a bleaching solution. Whitening toothpaste is typically inexpensive and can remove some surface stains to make your teeth appear whiter. However, the overall effect is limited. Caution should be used with whitening toothpastes as patients with recession or significant wear on their teeth should avoid using an abrasive toothpaste. Chemical bleaching agents are not abrasive like whitening toothpaste.
Whitening Strips
Tooth whitening strips and gels apply directly to your teeth through a toothbrush or thin strip. You can apply the strips approximately once or twice a day for 10 to 14 days. The peroxide inside the whitening solution will help brighten your teeth. This is safe for many patients and is effective. If you are unsure if this is appropriate for you ask your dentist!
Activated Charcoal
Charcoal can be a popular option when looking into at-home teeth whitening. Activated charcoal is a fine powder made from wood and other natural ingredients oxidized under high temperatures. This charcoal is in several toothpaste brands.
Activated charcoal is abrasive and can absorb some surface stains from your teeth, but it's not known to affect stains below your tooth's enamel. There is no evidence that charcoal has any whitening effects.
Activated charcoal can help clean your teeth like regular toothpaste, but it's unlikely to help brighten your smile. Charcoal toothpastes are also very abrasive which is not safe for the enamel. Some charcoal toothpastes also contain NO fluoride which can result in tooth decay. If you're unsure of the best option for your teeth, which whitening treatment is the best choice?
Which Teeth Whitening Option is Best?
The best teeth whitening option depends on your personal preference. At-home whiteners can be less expensive and easy to use, but the results may be less predictable. Speaking with your dentist can help you make a final decision. They can explain the benefits of the different whitening options. If you're interested in professional teeth whitening, contact your dentist today.