As a parent, you want to take the best possible care of your children, and that includes caring for their teeth! However, a baby's teeth aren't the same as the teeth of an adult, so you'll need to know what makes them special if you want to keep your baby smiling.
We provide high-quality dental services to people of all ages, so we know all about how to care for baby teeth properly. Learn how to keep your baby's teeth healthy and what to do in an emergency situation below.
What Makes a Baby's Teeth Special?
We all know that baby teeth are temporary, but what else separates them from the permanent teeth that come in as your child grows? Here are a few key differences:
Babies have fewer teeth than adults do. Adults have 32 teeth (including wisdom teeth), whereas children only have 20 at first. That's because the jaws in children are smaller than in adults.
The enamel on a baby's teeth is thinner than adult teeth. As a result, a baby's teeth often look whiter than the teeth of adults. However, this doesn't necessarily mean they're cleaner or healthier — so don't be fooled by appearances!
Baby teeth have shorter roots than adult teeth, and the roots are shaped differently. The different shape allows the roots to resorb more easily when it is time for adult teeth to replace the baby teeth.
What is the Purpose of Baby Teeth?
Baby teeth aren't just for helping your toddler chew and learn to talk, although these are certainly important functions. They also hold space in your child's jaw for permanent teeth to occupy once they finish growing.
Some people don't understand why caring for their baby's teeth is so important, since they reason that these teeth will simply fall out in a matter of time and new ones will replace them. However, baby teeth that decay can negatively affect the permanent teeth growing below them, so it's critical to take good care of your baby's teeth until they're ready to fall out naturally. Besides, small children can experience pain and infection in their teeth just like adults can, so caring for your baby's teeth is essential for keeping them healthy and comfortable.
How to Care for Your Baby's Teeth
Because baby teeth have less enamel than adult teeth, parents need to take a proactive approach to their children's dental health. Otherwise, decay can affect baby teeth as soon as they start to erupt. Follow the steps below to take the best possible care of your baby's teeth while you wait for their permanent teeth to arrive:
While breastfeeding, use a soft cloth or clean piece of gauze to wipe your baby's gums after each feeding. Breast milk contains sugar, and has been cited as a potential cavity risk in infants.
When your baby's first teeth begin to appear, start brushing them regularly with a soft toothbrush.
Toothpaste: For children under the age of 3 you can discuss your child's overall cavity risk with your dentist. In many cases it will be recommended that you use a "grain of rice" amount of regular fluoride toothpaste. This is acceptable even if the child cannot spit and will benefit from the anti-cavity effects of fluoride toothpaste. You can visit the Canadian Dental Association website for more information.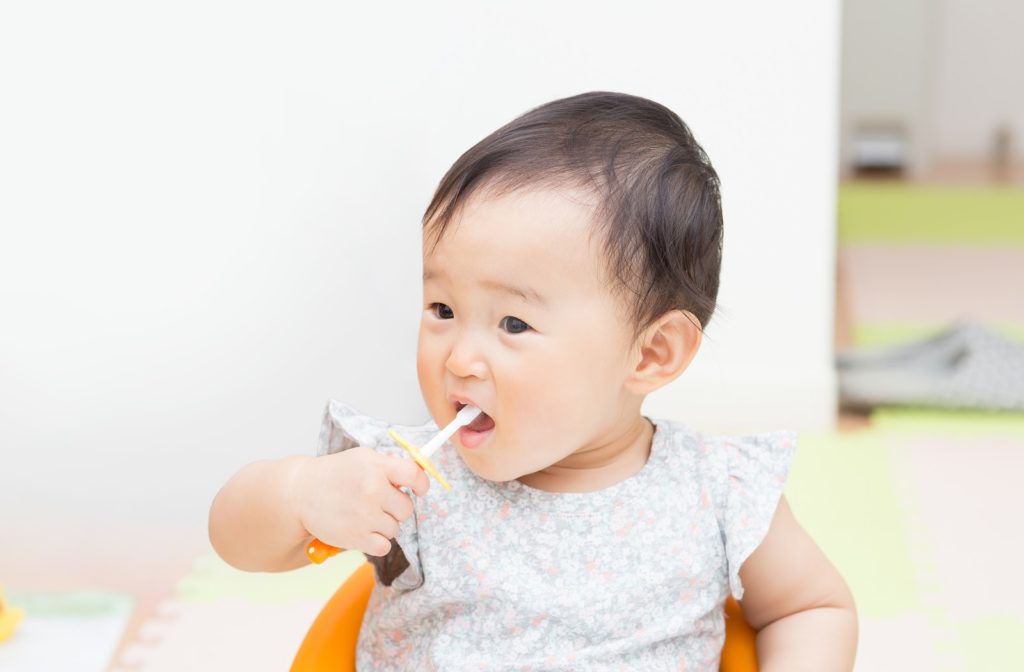 Avoid These Mistakes
Here are a few common and preventable errors that contribute to tooth decay in babies:
Letting your baby fall asleep with a bottle of sugary liquid (such as formula, milk, or fruit juice).
Coating your baby's pacifier in honey or sugar. This may seem like a good way to make your child more comfortable with the pacifier, but the damage it risks doing to their teeth isn't worth it. Always clean pacifiers and other such items before letting your baby put them in their mouth.
Take your baby for their first dental visit around their first birthday or within 6 months of their first tooth erupting. Regular dental visits from early childhood onward are the single best way to maintain healthy development for your child's teeth. The first visit is primarily for parent education or to answer any questions and evaluate for early dental problems.
Give Your Baby More Reasons to Smile
Baby teeth are only temporary, but caring for them is still vital to your child's dental and overall health. Use what you've learned above to help your child stay comfortable, learn healthy habits for life, and develop their adult teeth without issues when the time comes.