Losing a tooth can do more than leave gaps in your smile—it can also threaten the health of your jaw. Fortunately, dental implant surgery can effectively replace missing teeth and prevent them from causing these problems. However, many people don't know enough about dental implant surgery to feel comfortable going through with it.
What can you expect if you go for dental implant surgery? Are there any risks you should know about beforehand? How long will it take to recover after the procedure? We've performed and referred many patients for dental implant surgery at our practice, and we're ready to answer all of those questions. Read and learn.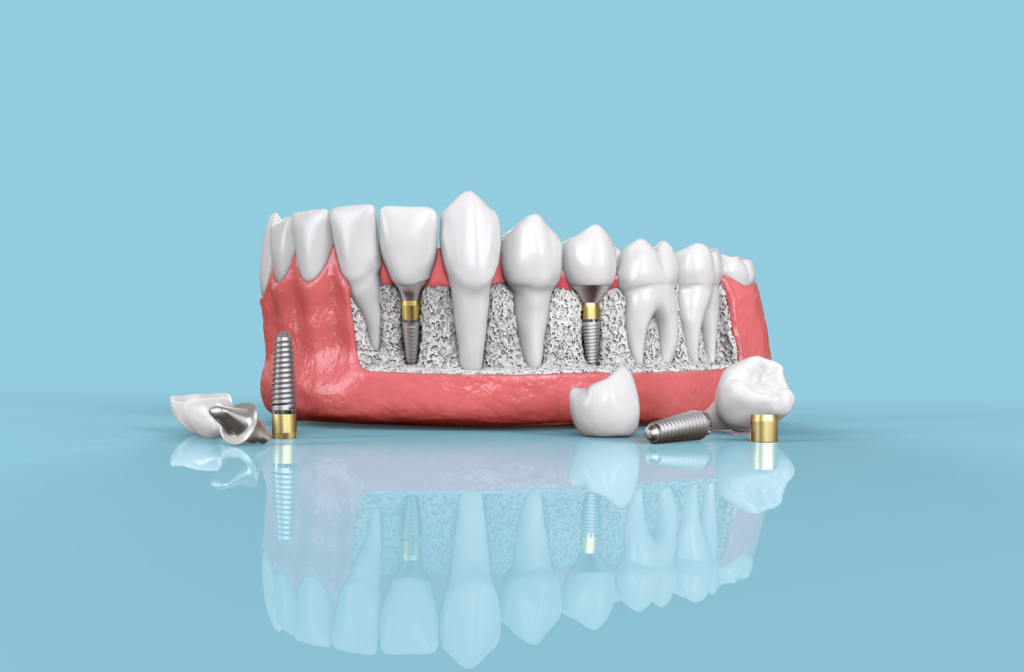 What is Dental Implant Surgery?
Dental implants can replace damaged or missing teeth with artificial ones. Dental implants can be used when a single tooth or several teeth are missing, as well as to stabilize dentures. To replace a missing tooth there is a surgery phase followed by a crown or restorative phase. Dental implants are titanium posts that are placed into the jaw bone and act like the root(s) of your natural teeth to hold a crown. The titanium post or implant will integrate or adhere to your jaw bone as it heals.
Since the jawbone must heal around the post, recovering from dental implant surgery can take 3 months or longer. Patients must also be evaluated before dental implant surgery to ensure that they have enough healthy bone in their jaw to support the post after the procedure.
What Happens During Dental Implant Surgery?
Dental implant surgery usually includes the following steps:
The first step takes place before any surgery begins. Your dentist will assess your suitability for dental implants by examining your mouth. They will also take x-rays of your jaw to ensure your bone structure will adequately support the implant(s). If you have a failing tooth that needs to be removed first, this can be done and a bone graft may be required to allow for future implant placement.
The second step involves surgically placing a titanium implant or post in to your jawbone. The surgery may be done in one or two steps depending on how tightly the implant goes into the bone. For a single stage surgery your dentist will place a healing abutment on the implant and stitch the gums around it while you heal. If the implant doesn't go into the bone as tightly the surrounding gum tissue will be stitched over top of the implant to allow proper healing. Whether or not the dentist covers the implant with the gums or places a healing abutment, it will take at least 3 months for the implant to heal and integrate (bond) to the jaw bone. If the gums are stitched over the implant, it will be uncovered during a second surgery after around 3 months. A healing abutment will be placed on the implant to shape the gum tissue for the future crown.
The final step can take place once the implant has healed and integrated into the jaw bone. Your dentist will evaluate the implant and gum healing around the abutment to confirm the implant is ready to have a tooth crown attached.. The dentist will take an impression and send it to a lab that will make the crown. This step usually requires no freezing.
In cases where dental implants replace multiple missing teeth, dentists may attach a fixed bridge instead of a single artificial tooth. A fixed bridge is a row of artificial teeth attached to the jawbone by implants at either end. Patients with complete dentures will have a button inside of their dentures that attach to the implants.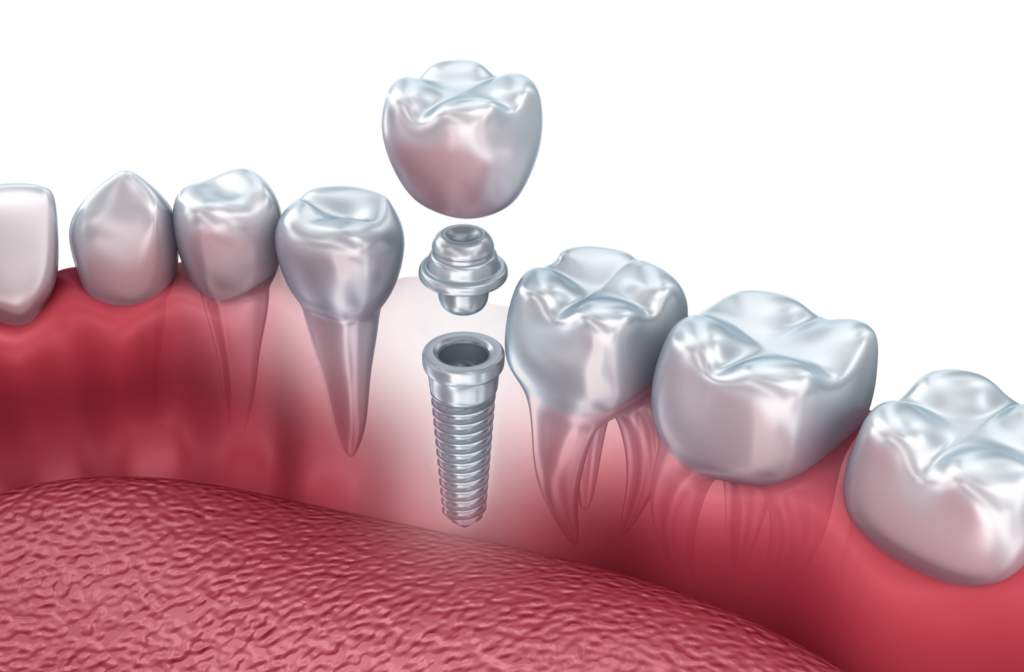 What Are the Advantages to Dental Implants?
Dental implants offer several advantages over other methods of tooth replacement (such as partial dentures and bridges):
Dental implants won't slip or pinch tissues inside the mouth. Many people claim that wearing partial dentures can be uncomfortable.
Dental implants function more like natural teeth as compared to any other form of tooth replacement.
Dental implants do not decay over time.
Dental implants typically do not need to be replaced. Most other tooth replacement procedures require professional maintenance and periodic replacement, but implants can last a long time when cared for correctly.
Dental Implant Risks
Like any surgical procedure, getting dental implants comes with a few risks. These include:
Development of gum disease around the implant known as peri-implantitis, this can result in bone loss around the implant and failure (loss) of the implant.
Damage to the artificial tooth or fixed bridge from abuse or poor maintenance.
Screw loosening of the implant crown, this can require replacement of the screw or implant crown.
In rare cases, placement of an implant close to a nerve or the maxillary sinus can result in complications. However, complications from dental implants are generally rare, and the most common ones are relatively mild. One study found loosening of the implant crowns the most frequent complication for single-tooth dental implants. This complication can be managed very easily by tightening the screw that holds the crown onto the implant.
How Long Does it Take to Heal from Dental Implant Surgery?
Dental implants have one of the fastest healing times of any load-bearing medical implant. Most dentists recommend that patients plan for a recovery period of 3 to 6 months after dental implant surgery. Most patients can expect some mild-moderate discomfort for several days after the implant surgery, and they are usually pleasantly surprised by how minimal their pain is.. The majority of patients take Tylenol and Advil for the pain and do very well. Recovery must be complete before a crown can be placed above the gums. It is important to have routine dental check ups at least yearly to confirm your implant is healthy and functioning well.
Use the following tips to promote a quick and healthy recovery:
Prevent infection by keeping your implants and the area around them clean. Just like regular teeth, dental implants need to be brushed and flossed to prevent bacteria from collecting on and around them.
Use a soft-bristled brush and mild toothpaste to avoid scratching the artificial tooth.
Use unwaxed tape when flossing. Specific floss is available to help clean dental implants safely and effectively. A waterflosser will likely be recommended to clean and take care of your dental implant.
Your implants won't decay, but bacteria trapped beneath them can affect the surrounding tissues. Remember to brush under the artificial tooth as well as around it.
Don't Fear Dental Implants
Dental implants can be a definitive solution for missing or damaged teeth. By using what you've learned here, you can reduce the risks associated with this useful surgery and help your implants last for the rest of your life. To find out whether or not dental implants are right for you, contact your dentist today.