Dental veneers aren't as well known as some dental procedures. But they've become a popular choice for many cosmetic dentistry patients. It's a very personal choice, that grants many the shades and dental shapes they're looking for.
Veneers might not be for everyone, so we've put together some thoughts about the pros and cons of this treatment.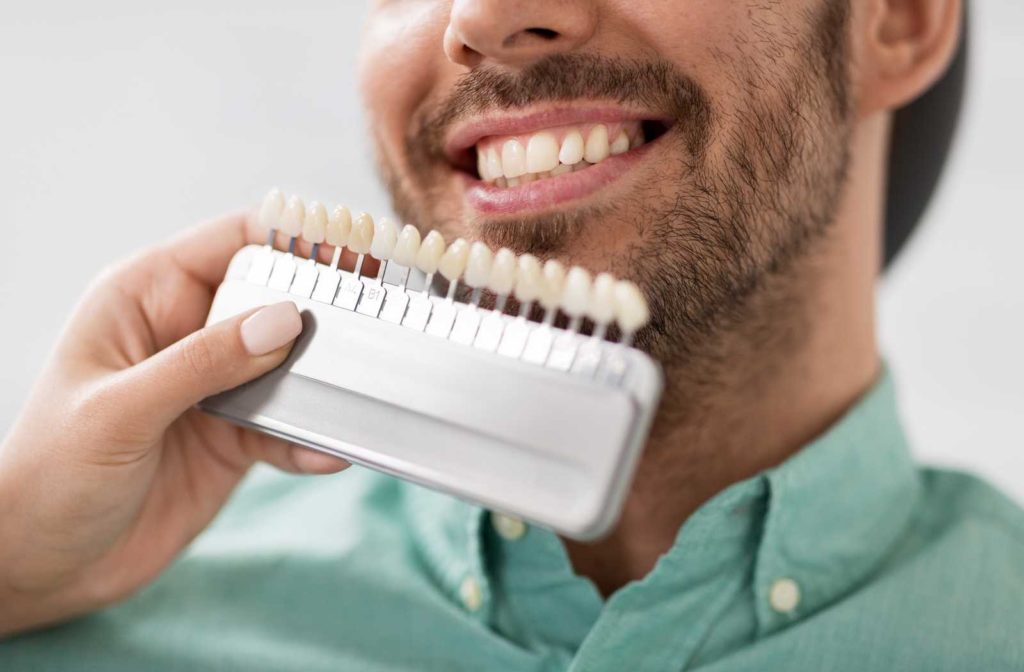 Parts of Your Tooth
Your teeth are made up of several layers, but veneers are designed to stick to the surface. The process involves some changes to your enamel and sometimes dentin.
At your tooth's root are important blood vessels that lead up through each tooth's root canal to the pulp chamber at the core of each tooth.
Surrounding this fleshy core is a layer called dentin. Dentin is a rigid, porous layer of yellow material that can conduct heat, pressure, and even nutrients. The outer layer is called enamel, the hard, translucent shell of your teeth.
What Are Dental Veneers?
Veneers are a customized, hard shell simulating your enamel. They are designed to make your teeth appear straight, favorable in length, colour and shape. To prepare your teeth for veneers, your dentist must remove some enamel in order to accommodate for the veneer that is made out of a resin or porcelain material. Your dentist will try to create the most ideal shape, size, or length you need based on the condition or your existing teeth and bite. The shade can also be custom selected for each patient.
Pros
There are a few outstanding pros to getting veneers, but of course it all depends on what your needs are, and what kind of budget you're working with. Many patients enjoy their veneers and find the pros outweigh the cons.
Price
In Canada, price can range from just over $1,000 to $2,000 per tooth for porcelain material, and composite material can cost between $250 and $1500 for veneers per tooth.
Veneers Overcome Irremovable Dental Stains
Tooth discolouration can come from many sources, but they generally fall into two groups: surface stains and deeper discoloration. Veneers are a way of covering the forward-facing surfaces of your teeth to hide unfavorable stain or discoloration. For many surface stains professional dental whitening might be a more conservative choice to try first.
Surface staining is much more common in most patients, because it usually boils down to your diet. Pigments (colouring) from food and drink sources adhere to the enamel and leave a stain behind.
Coffee, tea (especially black tea), many types of berries, red wine, tomato sauce, and hard candies each contain pigments that can leave a stain. Tobacco products contain similar pigments, whether smoked or chewed.
Professional teeth whitening can remove most surface stains, but over-the-counter gels or toothpastes can also help with lighter stains. Veneers might be overkill for conventional tooth stains. But in some cases, staining from this kind of pigmentation can work past the enamel and start staining your dentin.
Some deeper stains affect the colour of your tooth's dentin layer, and external whitening may not be as effective. There are several sources of deeper stains that might be discolouring your dentin and enamel. Some reasons for deeper stains that do not respond to whitening treatments include: genetics or variation in tooth development, exposure to some antibiotics during childhood and trauma or a root canal treated teeth. In many cases a veneer can mask darker stains. It is possible that very dark deep staining can show through a veneer. In this case your dentist may recommend a full coverage crown to hide the discoloration.
Veneers Can Restore Teeth with Minor Chips & Cracks
Veneers Can Help with Chips & Cracks
Veneers are forward-facing dental work, so they can benefit your front teeth where there's discolouration and small cracks or chips on the edges. Making sure your bite functions properly is the most important thing when determining if veneers are right for you. Malocclusion means an "unfavorable bite" and without a functional bite, unevenly distributed pressure among your teeth can lead to even more chips and cracks. In patients with mild chips or wear veneers can improve the appearance of the teeth. For patients with severe wear and chips sometimes a dental crown would serve better. Your dentist can help you decide.
Cons
There are some downsides to getting veneers however, some of them permanent. But it's all about managing your expectations. If you want the benefits veneers provide, your dentist can help you figure out the cost-to-benefit ratio.
Possible Prerequisite Work Before Getting Veneers
Veneers might not be a fast treatment choice if you need a lot of work done on your teeth before they become a viable option. For some patients, orthodontics might be a prerequisite before getting veneers to ensure a healthy bite.
But if you're willing to take things one step at a time, getting braces or Invisalign as stage 1, this setback shouldn't deter you too much! Good things take time!
You Might Need More Veneer Coverage than Expected
You need healthy dental layers from inside out on the teeth you'll be getting veneers on. For a uniform look, you might need more shells than just the six front teeth on the upper and lower rows of teeth. Depending on what dental shade you and your dentist decide on, you might need veneer coverage on the side-facing teeth as well.
Veneers Might Not Be as Suitable as Other Dental Work
If you have tooth decay affecting large surface areas of your enamel, dental fillings can offer similar coverage. If the tooth decay is more penetrative, working down to much of the dentin, a dental crown might be more suitable, since veneers mainly cover 1 side of each tooth.
Veneers Are Permanent Changes
The veneer application process is permanent, so there's no going back. To get your veneers on, you'll need some of your forward-facing enamel taken off. Following that, they'll create a rougher texture on the remaining surface of each tooth for a better bonding grip. The result is a part of your natural tooth that serves as your veneer shell's bonding site.
Then, you'll have cement applied to each bonding site, and the veneer is bonded and sealed with a blue lightl to dry the cement. Once they're all bonded, you'll have a new smile! But your dentist won't be able to restore your enamel if you ever have them removed.
Veneers Don't Last Forever
Your veneers should last you many years with careful habits, up to 15 years if they're porcelain (some patients have them last longer). But if you want them to last, you should be ready to make some crucial changes to your day-to-day so you can preserve their condition.
Life with Veneers
Life with veneers is different from life before veneers.
You need to change your eating habits especially:
Refrain from biting into hard foods or tearing chewy foods with your front teeth. For example biting into an apple or tearing crusty bread.
Furthermore, teeth with veneers also need more protection and safeguarding habits:
Chewing on pens or opening items with your teeth. However no one should do this! Even if they don't have veneers.
For sports, wear a mouthguard, and consider a night guard to protect your teeth in case you ever develop a habit of grinding your teeth in your sleep.
Ask Your Dentist to Weigh In
Veneers serve as a great option if you have healthy teeth with unfavourable colour, shape, length or overall appearance.. If you've always dreamt of a much whiter smile, and you don't anticipate the need for extensive dental crowns and dental bridges, they might be the best option available. You may want to weigh those options with your dentist, however, because each smile is different.