Invisalign can help straighten your teeth, but you need to care for your aligners. Your dentist will provide instructions, but you may wonder what you can and can't have when eating, drinking, and chewing gum.
It's not recommended to chew gum with Invisalign. By caring for your aligners, you can prevent unnecessary complications.
What Is Invisalign?
Invisalign is an alternative to traditional braces, replacing brackets and wires with clear, hard plastic. These aligners help subtly straighten your teeth, improving your smile without visible or hard-to-deal with braces.
Invisalign can help treat many dental problems, such as:
How Do You Use Invisalign?
You wear Invisalign almost all day, every day. These aligners gradually shift your teeth into place, but they're removable when you need to eat, drink, or brush your teeth. Your dentist can create custom aligners for you at their office.
You wear your aligners for a few weeks until you progress enough for a new pair. You then continue to switch to a new set of aligners until you reach your desired results. The length of treatment depends on the severity of the dental problem you're looking to correct.
What Are the Pros of Invisalign?
You may wonder what Invisalign provides that traditional braces don't. For many, Invisalign is a more convenient treatment than traditional braces, letting you enjoy a straighter smile without visible hardware and easier removal to clean your teeth, eat, and drink.
There are several benefits to Invisalign, including the following:
Subtle tooth correction: Invisalign helps straighten your teeth without the appearance of braces. The clear aligners can be barely noticeable.
Easy removal: You can easily remove Invisalign whenever you need to eat, drink, or clean your aligners.
Easier teeth cleaning: Removing your aligners helps you clean your teeth effectively, getting all the hard-to-reach areas.
What About the Cons?
While Invisalign can be beneficial, it isn't for everyone. You should know what to expect when you're interested in treatment.
Some potential drawbacks of Invisalign include:
Time investment: You need to wear Invisalign almost 24/7. This time commitment may not be ideal if you think you'll remove your aligners frequently.
Removal to eat and drink: You can't eat foods with your aligners in, otherwise you risk staining and trapping food residue.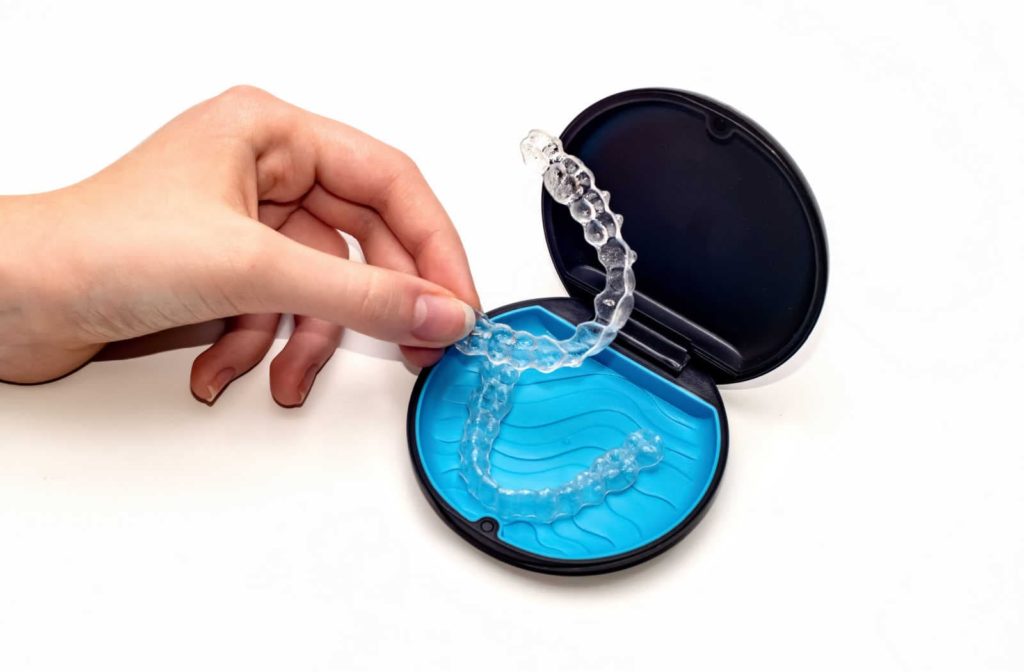 Can You Chew Gum with Invisalign?
In general, gum and braces don't mix. It can get stuck in the wires and brackets used to straighten your teeth. While Invisalign uses plastic aligners, we still recommend avoiding gum.
Gum can get stuck to the aligner, making it difficult to remove. You can take out your aligners if you want to chew a piece of gum, but don't do this too often. Removing your aligners too frequently can delay your treatment and cause potential discomfort.
If you do choose to chew gum, sugar-free is recommended. Any gum with sugar in it increases your risk of tooth decay. Gum residue or saliva can get into your aligners, mixing with bacteria and causing potential cavities.
Caring for Invisalign can help prevent complications and benefit your treatment long-term.
Invisalign Do's & Don'ts
Invisalign recommends several ways to care for your aligners and prevent potential complications. These do's and don'ts include:
Don't stain your aligners: Take Invisalign out before you have a meal or snack. Food residue can stain your aligners.
Regularly clean your aligners: Cleaning your aligners helps prevent dental problems. Brush your aligners under lukewarm water and rinse them. Ensure you brush your teeth before putting your aligners in again.
Don't smoke wearing your aligners: Smoking can stain Invisalign, so never do so when wearing your aligners. Remove them if necessary, and brush your teeth before wearing Invisalign again.
Don't eat with Invisalign in: Remove your aligners to eat to help prevent staining and food getting stuck in your aligner. Brush your teeth after your meal to avoid staining.
Don't drink anything but water: Staining can occur from most drinks. The only thing you can drink with your aligners is water.
Sleep with your aligners in: You typically wear your aligners for 20–22 hours a day, so ensure you sleep with your aligners in.
Feel Confident in Your Smile
Invisalign is an innovative solution for straightening your teeth, and can help you gain a healthy and bright smile. With proper care, clear aligners can be a great alternative to braces. Speak with your dentist—they can help you decide if Invisalign is right for your needs. For more information about Invisalign and other ways to keep your smile healthy and glowing, contact the Otara Dental team.