Suffering from jaw pain and headaches can make it nearly impossible to get through simple daily tasks like eating or talking. If you experience frequent jaw pain and headaches, finding long-term relief may start at your dentist's office. In some cases, neuromodulator injections can be an effective treatment for headaches and jaw joint disorders that cause jaw pain.
In order to effectively treat these conditions, it is important to understand their underlying causes. If you are experiencing frequent jaw pain, it is a good idea to consult your dentist. A check-up with your dental care team can help you determine the underlying problem and find an appropriate treatment option, which may include Botox injections.
What Causes Jaw Pain and Headaches?
Experiencing chronic facial pain, including jaw pain and headaches, can be common signs of a temporomandibular joint (TMJ) disorder (TMJ). TMJ disorder refers to a number of related conditions that can cause problems with jaw movement and pain in and around the jaw area.
What is TMJ Disorder?
In order to understand TMJ disorder, it is important to first know what your temporomandibular joint (TMJ) is. Your TMJ is the joint that allows you to move your jaw and open and close your mouth. You have two TMJs, one on either side of your jaw.
Pain caused by a TMJ disorder is usually not constant and may occur suddenly for short periods. TMJ flare-ups can cause sudden severe jaw pain and be brought on by a range of triggers, including stress, diet, hormone levels, and posture.
Causes of TMJ Disorder
The exact cause of TMJ disorder is not always clear, but it may be the result of a range of factors, including:
Trauma or injury to the jaw or joint
Bruxism or teeth grinding
Arthritis or other joint disorders
Misalignment of the jaw or teeth
Symptoms of TMJ Disorder
The severity of TMJ symptoms may vary from person to person, but common symptoms include:
Pain and tenderness in or around the jaw joint.
Headaches
Problems opening or closing your mouth
Clicking, popping, crunching, or grinding sounds when you move your jaw
TMJ disorders are common, with one study estimating that 30-44% of the population experience TMJ symptoms. If you are experiencing jaw pain, headaches, or any of the other symptoms mentioned above, you should consult with your dentist for a possible TMJ disorder diagnosis and treatment plan.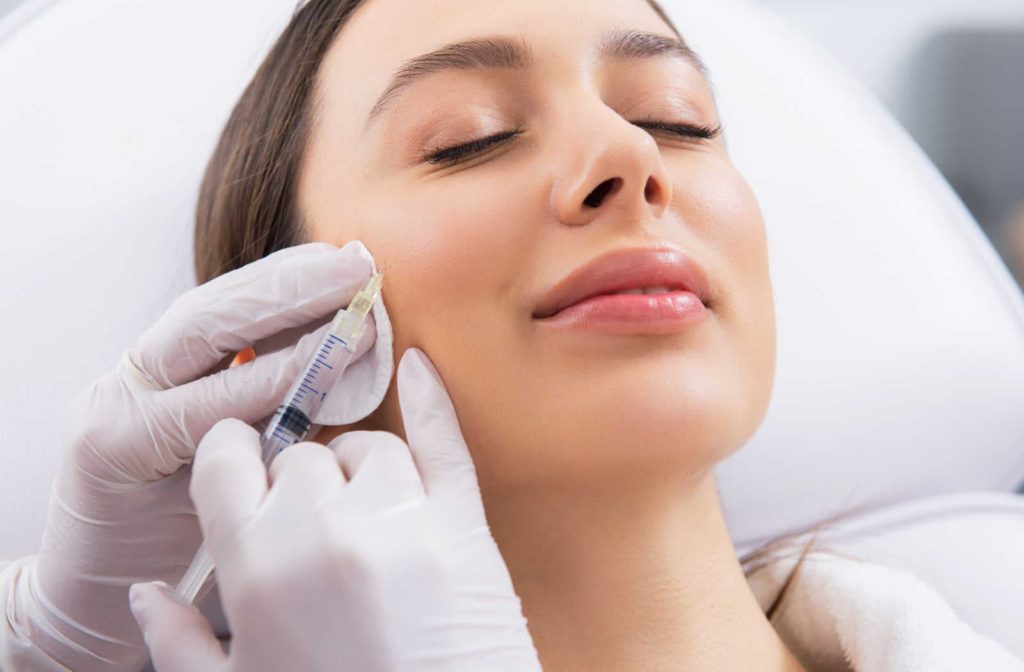 How Can Neuromodulators Relieve TMJ Disorder?
Botox injections contain a neurotoxin that can be used to treat TMJ disorders by temporarily relaxing the muscles that are responsible for causing jaw pain and headaches. Botox blocks the nerve signals that tell your muscles to contract, which can help to reduce muscle tension and alleviate pain.
Neuromodulator injections can provide relief from TMJ-related jaw pain and headaches and may be a good option for people who have not found relief from other TMJ disorder treatments. It is important to keep in mind that neuromodulators are not a permanent solution for TMJ disorder and the effects are not permanent. Repeated injections may be necessary to maintain the benefits.
Risks & Side Effects of Botox
While getting Botox injections is generally a safe procedure, you should always be aware of the possible side effects of any type of medical treatment. You may find it helpful to ask about possible side effects that may affect you when speaking with your dentist about the benefits of Botox injections.
Botox injections should always be performed by a licensed professional in a clinical setting. The neurotoxins contained in the injections should be administered with care. If you would like to learn more about Botox treatment for TMJ or book a consultation, contact our office.
Alternative TMJ Disorder Treatments
Neuromodulator injections are far from the only treatment for TMJ disorder. Your dentist may recommend a variety of treatment options in order to effectively treat your symptoms or prevent flare-ups. Your TMJ disorder treatment plan may include:
Diet changes: Changing your diet to include more soft foods like soup, smoothies, and pasta can help reduce the amount of stress you put your jaw through while chewing.
Pain Medication: Pain medication or non-steroidal anti-inflammatory drugs can provide temporary relief from TMJ-related pain and discomfort. However, this may not treat the root cause of the pain.
Physiotherapy & Massages: Massage therapy can help to relax tense muscles and improve the range of motion in your jaw.
Nightguards: Wearing a nightguard can help to prevent bruxism or teeth grinding, which can cause TMJ disorder. A custom-fit nightguard from your dentist can provide a comfortable, durable, and adjustable solution to teeth grinding.
Finding lasting relief from jaw pain and headaches often starts with a visit to your dentist. Your dentist will be able to evaluate your unique oral health needs to determine which treatment options may work best for you.
Find Relief from Jaw Pain & Headaches
If you are experiencing jaw pain or headaches, they may be caused by a more serious underlying issue like a TMJ disorder. Booking a routine exam with your dental care team is a great way to get to the bottom of your pain and find lasting relief.
Request an appointment with our team at Otara Dental to learn more about your options for treating TMJ.