Why Good Dental Habits Are Important Early On
Early Childhood Tooth Decay
Infants and children can develop cavities in their baby teeth as soon as the first one sprouts through the gums. If your child develops any sort of decay on their baby teeth before age 6, it is referred to as Early Childhood Tooth Decay (ECTD), or Early Childhood Caries (ECC).
ECTD is a very common form of tooth decay, but it is preventable if you are aware and take the proper steps to keep your child's teeth clean. An acid that damages the enamel on teeth is created when the sugars from food and drink combine with the bacteria found in plaque. Proper brushing habits after eating or drinking are important to avoid this.
If tooth decay is left too long untreated, it can lead to infection, which may affect your child's cognitive abilities and may require surgery.
Preventing Early Childhood Tooth Decay
Regular visits to the dentist after your child's teeth begin to come in will help to manage oral health and catch early signs of tooth decay. Your dentist may be able to apply fluoride varnish to your child's teeth to protect the enamel. Fluoride varnish is a tinted liquid resin applied to all visible enamel surfaces that helps protect the teeth from decay.
Alternatively, once adult teeth start to appear, sealants can be applied to molars to prevent food from getting stuck in the grooves. Sealants are plastic coverings and can help protect teeth from cavities.
The biggest way to prevent early childhood tooth decay is to establish healthy oral habits at home, by teaching your kids how to brush and floss properly and regularly.
Early Signs of Early Childhood Tooth Decay
While your children are young, it is important to check their teeth for early signs of ECDT. Book an appointment with your dentist if you notice your child's teeth are becoming stained or white and chalky, especially near the gums.
How to Brush Your Child's Teeth
When They're Too Young to Brush
Keeping your child's mouth clean, even before they have teeth, is important to build good oral habits from the beginning. Cleaning your child's mouth will allow baby teeth a clean place to grow into, and gets your child used to the action of cleaning his or her mouth.
To clean your child's mouth, lie them down where they will feel comfortable, and use a soft baby brush or damp washcloth to brush or wipe their gums and teeth. It is not necessary to use toothpaste until they have teeth.
Most young children are not able to brush their teeth on their own. A parent should brush a child's teeth twice a day until the age of ten. Let children have a turn and practice once they can hold a pencil so they can learn to do it. If you are helping your child learn to brush, there are a few rules to follow to ensure they are cleaning tough spots where plaque may build up.
Hold the toothbrush at a 45-degree angle towards where the gums and teeth meet.
Brush back and forth at the gumline without scrubbing too hard, then sweep down toward the chewing surface of the tooth.
Brush every surface of every tooth, even the very back.
Brush after every meal and before bed.
The Right Toothbrush and Toothpaste
The best toothbrush to use is one with soft bristles. The size depends on the age and size of your child, and they should be replaced every 3 to 4 months.
Toothpaste should have fluoride, and the box will have the symbol of the Canadian Dental Association. If your child is not old enough to spit out the toothpaste, use a small smear the size of a grain of rice. A pea-sized amount of toothpaste can be used if your child is spitting it out after brushing. Excessive ingestion of fluoride may result in dental fluorosis, so always supervise your child while brushing.
Tips to Make Brushing Fun!
Some children will not enjoy brushing their teeth no matter what, so it can be beneficial to utilize some unique ways to make brushing fun.
Build a routine with your children.
Brush your teeth with them.
Set goals and give rewards or incentives for continued brushing.
Use songs or music to brush along to.
Use flavoured fluoride containing children's toothpaste (unless they like to swallow it).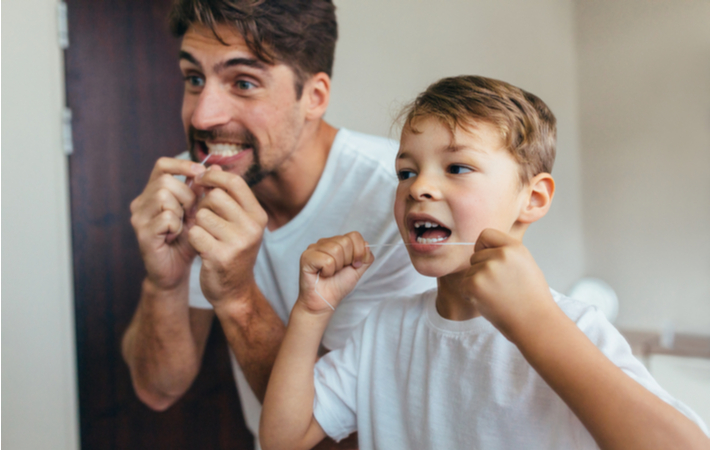 How to Floss Your Child's Teeth
Flossing is important to do alongside with regular brushing to ensure any bacteria and food particles are not left in between teeth. Young children will not be able to floss their teeth, so you should floss your children's teeth until they are old enough to properly do it themselves, usually around the age of ten. Flossing is much easier when the child is laying down.
Wrap a long piece of floss, about the size of your child's arm, around your two middle fingers, leaving about 2 inches between each hand.
Slide the floss in between teeth, wrapping around the base of each tooth in a c-shape where it meets the gum. Rub up and down 4 or 5 times, like a shoeshine going under the gum into the natural sulcus where the bacteria live.
Move to a new part of the floss for each tooth, and floss from bottom to top on every tooth, including the back molars.
Parents and children can use floss picks or holders if fingers aren't working
Toss used floss in the garbage, never flush down the toilet.
Bring your child in for regular dental exams and cleanings to ensure proper oral health and to catch any signs of decay before it can worsen.