Achieving A Healthy Smile with Invisalign
There are plenty of modern options to help patients achieve a healthy, confident smile. For example, routine dental exams help protect the integrity of your oral health, while cosmetic procedures (like teeth whitening) give patients movie-star pearly whites. But alignment can be a crucial part of maintaining healthy function and appearance.
Traditional orthodontics, like braces, can take time. Although braces can be effective in improving alignment, having metal and wires in your mouth can make patients smile-shy. Invisalign is nearly invisible and removable, so you can keep enjoying the foods you love.
But how comparable is treatment speed in the Invisalign vs. braces debate? How long does Invisalign take?
How Does Invisalign Work?
Invisalign is an orthodontic alternative to braces, but how it works is similar to traditional braces. Instead of using brackets and elastics, Invisalign uses clear aligners—similar in appearance to a retainer or mouthguard. The clear aligners are customized to create a snug fit around your teeth, using pressure to influence movement over time.
Unlike braces, the movement isn't controlled through tightening wires. Instead, patients receive new aligners every 2–4 weeks. Each new aligner gets patients closer and closer to their completed treatment. How many aligners and how long it takes can depend on how much adjustment is needed.
Invisalign can be an effective treatment for multiple dental concerns. Some common treatable issues include:
Crowded teeth
Straighter teeth
Many patients can benefit from clear aligners, including those with more complex dental concerns. Patients can talk to their dentist to learn if their dental health is compatible with Invisalign.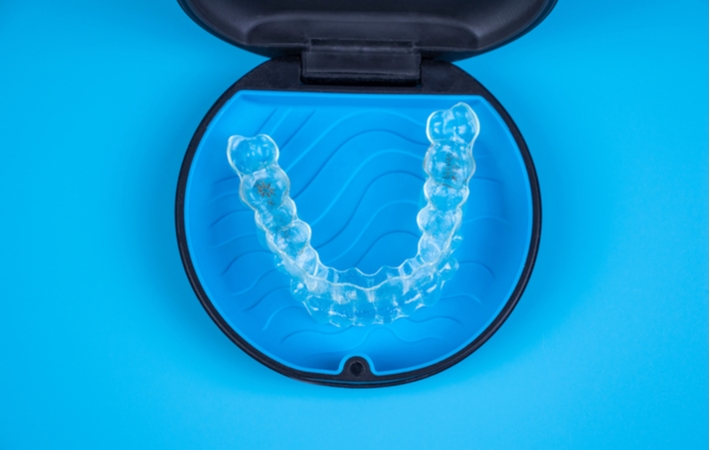 How Long Does Invisalign Take?
Treatment length can depend on multiple factors. Your teeth are unique, and so is your Invisalign treatment plan.
The first step is meeting with your dentist. Although treatment doesn't begin during your initial consultation, the sooner you get assessed, the sooner you can complete treatment. Your dentist evaluates your dental health, alignment issues, and lifestyle factors to determine if Invisalign may benefit you.
Your treatment plan begins by taking impressions of your teeth. The impressions are essential for creating the moulds for your custom-fitted clear aligners. Delivering the moulds can take up to a few weeks.
At your second appointment, patients receive their first aligners. Your dentist will assess the fit and let you know when to schedule your next check-in. Typically, aligner sets are changed every 2–4 weeks. Your dentist can also provide any wear and care instructions.
How many aligners patients need and how rapidly they work can depend on multiple factors. For example, patients may require as few as 5 aligner sets for very mild movement needs. In contrast, severe dental issues may require over 30.
Some patients may require additional support features, such as SmartForce attachments, applied directly to your teeth. The attachments can be added before or during Invisalign treatment. Attachments won't necessarily add treatment time, but it can mean spending a few more minutes with your dentist.
Many patients can start seeing positive results within weeks. Some patients can complete their Invisalign treatment plan in as little as 6 months. However, less than 2 years is the average patient experience.
What Changes Your Invisalign Timeline?
The most significant factor affecting your Invisalign treatment plan is your dental problems. Patients with mild overcrowding will have a faster treatment timeline than patients with additional alignment issues, such as a severe overbite.
Before beginning your treatment, your dentist can use the 3D models provided by invisalign—and their professional experience—to estimate your treatment timeline. However, other factors can contribute to how long your Invisalign treatment will take.
Age
Invisalign is available for all ages—children (ages 6–10), teens, and adults. Although you're never too old to improve your smile, adults can experience slower results than younger patients. Adults have higher bone density, making it more challenging to influence movement.
Older adults are also more likely to experience dental changes, such as tooth sensitivity and exposed roots. Gum disease is also common in adults, affecting 70% of Canadians. When the condition progresses, it can lead to tooth decay, loose teeth, and bite changes.
Gum Disease
Gum disease, or gingivitis, is treatable and reversible. However, it can cause problems that interfere with your Invisalign treatment. Your routine Invisalign evaluations can determine your treatment progress, but they're also a chance for your dentist to check on your teeth and gums.
Patients should still book regular dental exams to receive a thorough diagnosis of their oral health. Treating dental issues affecting the health of your teeth and gums is a top priority. Unhealthy teeth and gums can undermine your treatment or lead to teeth shifting. Patients can continue Invisalign after resolving any oral health problems.
Ask Us About Invisalign
Your dental or orthodontic treatment is a personal experience. How long it takes is up to you–or at least, your oral health. Your dentist can provide a personalized timeline after assessing your dental health and alignment issues. When you want to know more about Invisalign, or any cosmetic treatment, our team can answer your questions.
Contact our team at Otara Dental to request an appointment.