Having a bright, beautiful smile can be a major confidence booster. There are many ways to achieve a whiter smile, from whitening toothpaste to in-office whitening treatments at a dental clinic. When choosing a whitening treatment, it's important to consider how whitening might impact your oral health – and that is where fluoride can play a key role.
While fluoride does not have any whitening properties, it is still important to include fluoride in your dental hygiene routine.
Fluoride cannot actively remove stains or lighten the colour of your teeth. However, it can be combined with other teeth whitening treatments to achieve a whiter smile without compromising oral health.
What is Fluoride?
Fluoride is a naturally occurring mineral found in water, soil, and certain foods. Fluoride is widely recognized for its benefits in preventing tooth decay and is commonly added to toothpaste, mouthwash, and even drinking water.
Fluoride is a safe and effective way of preventing tooth decay, and it is scientifically proven to:
Strengthen tooth enamel
Rebuild minerals that make teeth stronger
Lower the amount of acid in your mouth
By opting for products that contain fluoride, you can help to prevent cavities and protect your teeth from potential sensitivity caused by teeth whitening.
How Does Teeth Whitening Work?
Your teeth can become stained or discoloured due to a range of factors, such as:
Aging: As we age, it is natural for our teeth to turn yellow as our enamel begins to wear away.
Genetics: Some people are simply born with naturally darker or more yellow teeth.
Lifestyle habits: Consuming certain foods and drinks such as coffee, tea, or red wine, and activities like smoking can stain your teeth over time.
Poor oral hygiene: Not brushing and flossing your teeth regularly can lead to a buildup of plaque and tartar, which can cause discolouration.
Medications: Some medications, particularly antibiotics, can cause your teeth to become discoloured or stained.
Teeth whitening treatments, such as in-office, at-home bleaching kits, and whitening toothpaste, work by breaking down and removing stains on your teeth. They contain a bleaching agent, usually hydrogen peroxide or carbamide peroxide, penetrating your tooth enamel and breaking down the stains. The result is a whiter, brighter smile.
Conversely, fluoride works by strengthening your enamel, which is the outer layer of your teeth. Over time, the acid produced by bacteria in your mouth can erode your enamel, causing it to weaken and become more susceptible to cavities. Fluoride can help prevent this erosion by remineralizing your enamel. When you consume fluoride, it bonds with the mineral crystals in your enamel, making it stronger and more resistant to acid attacks. Fluoride can also reverse the early stages of tooth decay by repairing the enamel before a cavity forms.
So, while fluoride cannot whiten your teeth, it's essential to your oral hygiene routine. It helps to prevent cavities, strengthen your enamel, and reduce sensitivity, which can all contribute to a healthier, more beautiful smile.
Methods of Teeth Whitening
Many options are available to achieve a whiter smile, including at-home and professional treatments. Some dental offices offer some form of in-office whitening treatment. An in-office whitening session will achieve fast results but can result in significant sensitivity.
At Otara Dental, we offer customized whitening trays for overnight wear at home. This method of whitening is cost-effective and, in many cases, can result in less tooth sensitivity than in-office whitening.
At-home bleaching kits are more affordable and convenient for many. Similarly, whitening toothpaste can help to remove surface stains, but they do not contain enough bleaching agents to make a significant difference in the colour of your teeth.
Regardless of what type of teeth whitening treatment you choose, you should always consult with your dentist to prevent tooth sensitivity or other damage to your teeth.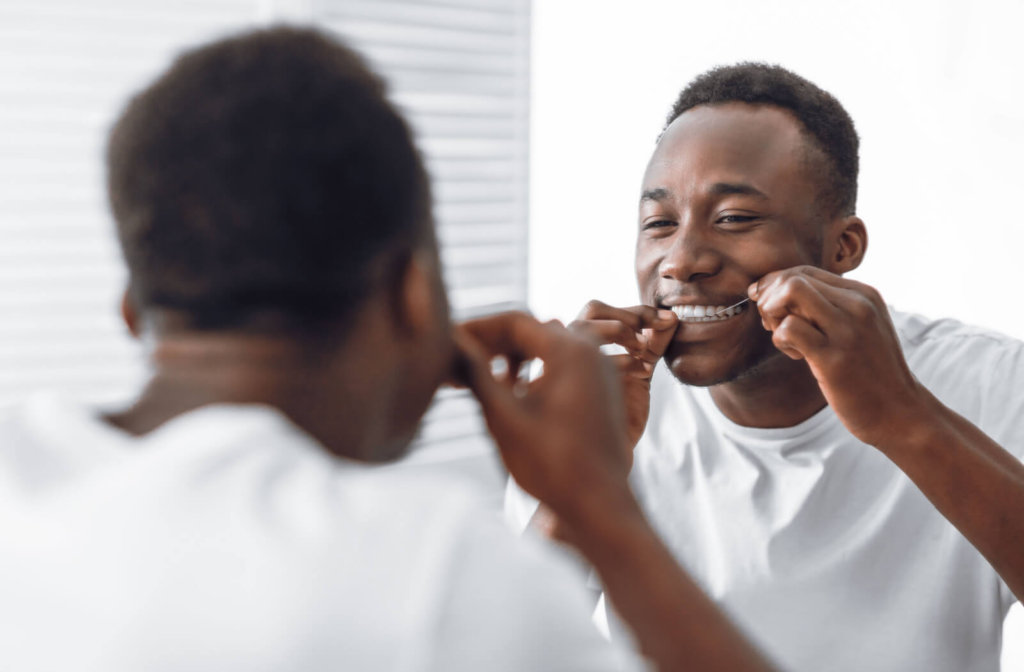 How to Prevent Teeth Discolouration
In addition to teeth whitening treatments, there are several lifestyle changes that you can make to help keep your teeth white and healthy. These include:
Brush and floss regularly: Proper oral hygiene is essential for maintaining healthy teeth and preventing staining and discolouration. Make sure to brush your teeth at least twice daily and floss regularly.
Avoid or limit certain foods or drinks: Limit your consumption of foods and drinks that can stain your teeth.
Quit smoking: Tobacco use can be a significant contributor to tooth discolouration, as well as a host of other oral health issues.
Stay hydrated: Drinking water throughout your day can help rinse away food particles and prevent staining.
Use dental products that contain fluoride: Opting for toothpaste, mouthwash, and other dental hygiene products can help prevent enamel erosion and keep your teeth bright and healthy.
Achieve a Whiter Smile
At Otara Dental, we believe in a comprehensive approach to oral health. We offer various services, including preventive care, restorative treatments, and cosmetic dentistry, to help you achieve a healthy, beautiful smile. Our experienced professionals will work with you to develop a personalized treatment plan that meets your unique needs and goals.
If you're interested in teeth whitening or other cosmetic dentistry treatments, we invite you to schedule a consultation at our office.