Your oral health is far more important than you might think. According to the Canadian Dental Association, an approximate 2.26 million school days are missed by students every year due to dental-related illnesses. These illnesses can include cavities, gum disease, oral cancer, or even hereditary complications.
However, it is still possible to prevent some of these illnesses from affecting you and your family. By visiting your dental practitioner, you can receive helpful advice on what to do for your oral health.
Tooth Caries (Cavities)
What Is It?
Tooth caries, more commonly known as cavities, are one of the leading oral diseases patients face across the country. Cavities are the culmination of bacteria, food, and acid which build up around your teeth, causing plaque. Plaque then can eat away at the enamel of your teeth, causing tooth decay and cavities.
How To Prevent It
The best prevention from tooth caries can vary depending on the overall health of your teeth and the recommendations from your dentist. However, a general rule of thumb is to brush your teeth twice a day and floss once a day. For the best results, visit your dentist regularly.
Gum Disease
What Is It?
Gum disease can be caused by plaque forming on your teeth, but if left untreated, it can spread to your gums and cause gum disease. With gum disease, you can experience tenderness in the gum line, bleeding, or swelling if you do not look for treatment.
How To Prevent It
Not unlike tooth caries, the best way to prevent gum disease is by keeping a good dental hygiene routine by brushing twice a day and flossing once a day. A regular visit to your dentist can also spot signs of gum disease and help you with a treatment suited for your needs.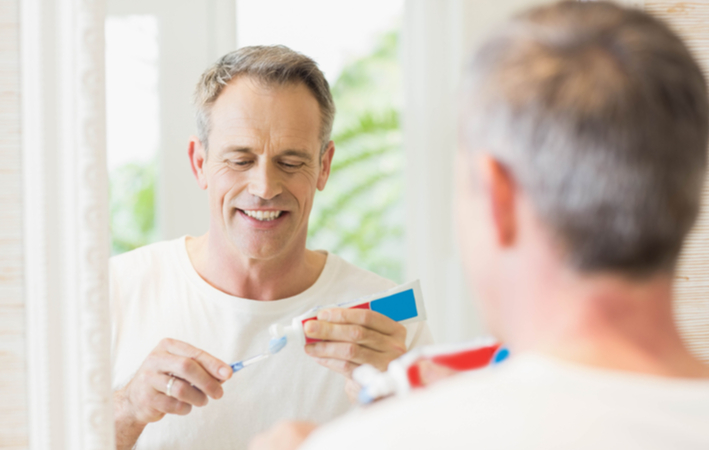 Periodontitis
What Is It?
Peridontitis is the eventual growth of gum disease becoming far more damaging to your gums and teeth. Common symptoms of periodontitis can include pain when chewing, bad breath, swollen and/or bleeding gums, a bad taste in your mouth, and overall inflammation of the gums.
How To Prevent It
If you have managed to have gum disease develop into periodontitis, the best way to treat the issue would be to visit your dentist and go over treatment plans to get your oral health back on track. Depending on the seriousness of your symptoms, you may be prescribed medications or be consulted on the possibility of removing infected or dead teeth.
Oral Cancer
What Is It?
One of the most dangerous forms of oral disease you can experience is oral cancer. Oral cancer generally starts as small, white patches on your tongue and mouth before turning in red blotchy spots which can cause irritation, bleeding, or even cause problems swallowing.
How To Prevent It
If you believe you are experiencing symptoms of oral cancer, see your dentist immediately. If not treated, oral cancer could ultimately lead to death. Potential risk factors include consuming tobacco products, performing oral sex, or having a poor diet.
Sensitive Teeth
What Is It?
Sensitive teeth can be caused by many factors but one of the most common is the loss of protective enamel on your teeth, exposing the dentin. Sensitive teeth can be an early warning sign of your teeth decaying or developing cavities.
How To Prevent It
Almost like every other entry on this list, the best way to prevent sensitive teeth is by maintaining an excellent daily oral health routine. If you are unsure if keeping a routine will help with your sensitive teeth, talk to your dentist. Their advice could set you on the right track normal, healthy feeling teeth.