In short, bacteria is what is causing your bad breath. The bacteria in your mouth feed on the food that you eat. As the bacteria feed, they release smelly compounds that can cause bad breath.
While bacteria is the primary cause of bad breath, there are other factors that can make bad breath worse. Certain habits, health conditions, and medications can also contribute. So before you stock up on breath mints and gum, make sure you're addressing the root cause.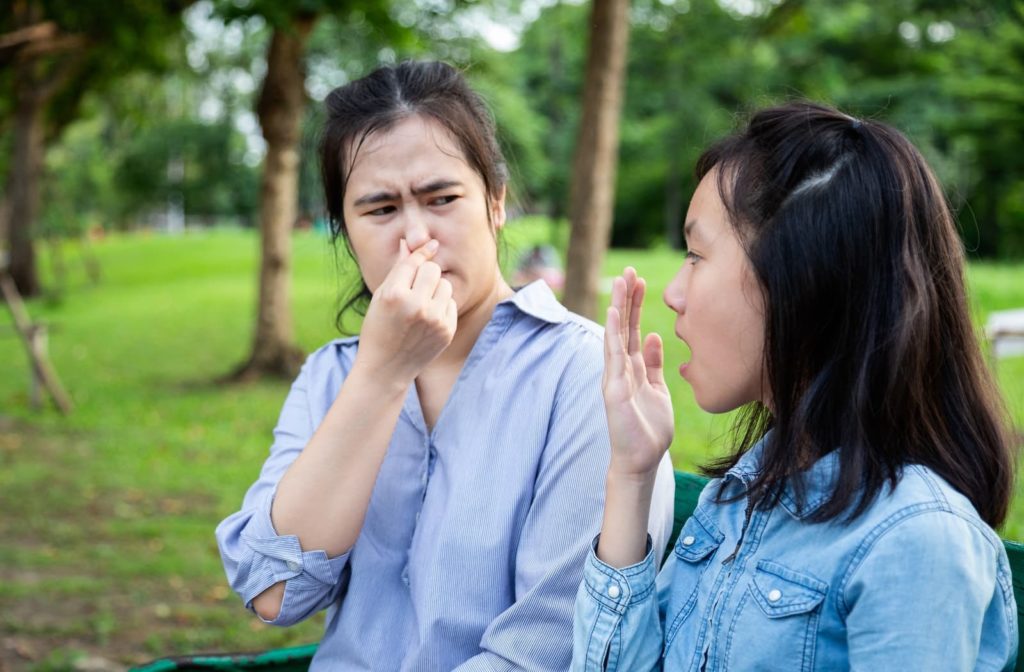 Causes of Bad Breath
Poor Dental Hygiene
The vast majority of the time, bad breath is simply caused by poor oral hygiene. Proper brushing and flossing can go a long way when it comes to fresh breath. Cleaning your tongue is also very important when trying to keep your breath fresh.
A tongue cleaner or scraper can be purchased at your pharmacy or dental office. Do you still feel like you have bad breath? Talk to your dentist as there could be other factors described below that may contribute to bad breath.
Certain Foods
We're all pretty familiar with "garlic breath" or "coffee breath". It's no secret that pungent foods like onion, garlic, and coffee can contribute to bad breath. These strong foods can linger in your mouth, leaving a distinct (and unpleasant) smell.
Smoking & Tobacco Products
Just like smoking can leave an odour on clothing, it can also leave an odour in your mouth. Smoking also increases your risk of gum disease, which can be another source of bad breath. Finally, smoking can inhibit your sense of smell, which could mean you have bad breath and not realize it.
Dry Mouth
Saliva cleanses your mouth, which helps to remove bad breath causing bacteria. A lack of saliva while we sleep is what causes morning breath. Issues from not drinking enough water to chronic dry mouth can contribute to bad breath.
Gum Disease
Gum disease is caused by the build-up of bacteria in the mouth, which can worsen bad breath. In fact, bad breath is one of the tell-tale signs of gum disease. In extreme cases, severe gum disease can also lead to infections in the mouth, another cause of bad breath.
Infections in the Mouth or Nose
Infections in the mouth, nose, and throat can all lead to bad breath. Some examples include:
Sinus infection
Mouth sores
Surgical wounds
Tooth decay
Tonsil stones
While not an infection, tonsil stones are an issue in the throat that can cause bad breath.
Medications
Some medications can lead to bad breath, often by causing side effects like dry mouth. Classes of drugs to watch out for include:
Antihistamines
Sedatives
Amphetamines
Antidepressants
Diuretics
Decongestants
Anticholinergics
Certain antipsychotics
Some vitamin supplements can cause bad breath too, especially when taken in large doses.
Other Medical Conditions
Aside from medical conditions that affect the mouth, nose, and throat, there are other issues that can cause bad breath.
Gastric reflux
Diabetes
Liver disease
Kidney disease
Snoring
Breathing through your mouth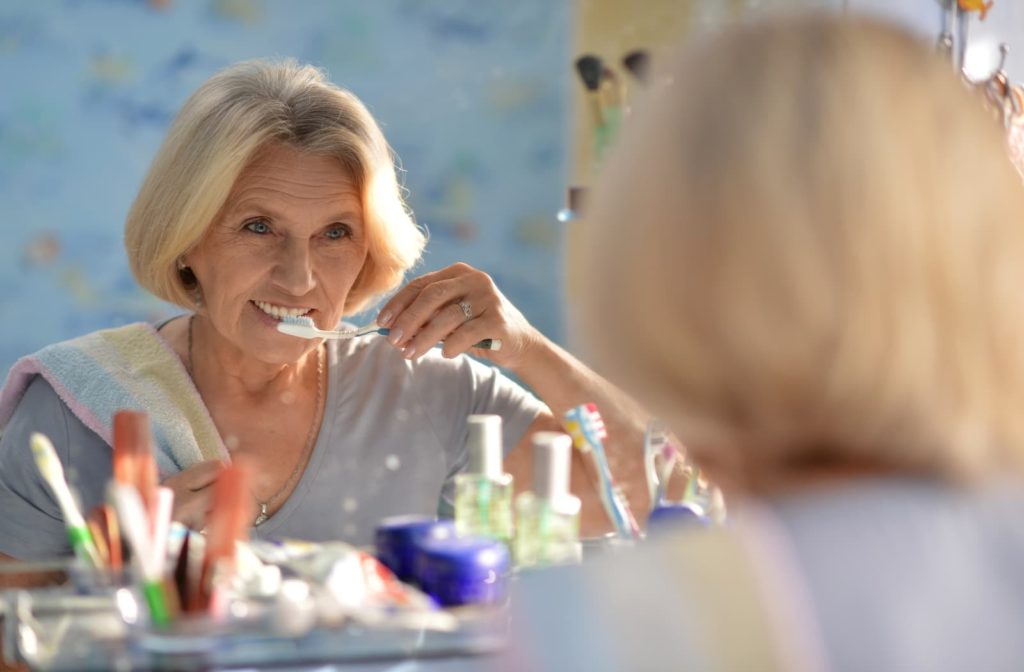 How to Get Rid of Bad Breath
Oral care issues are the most common cause of bad breath. Make sure your oral care routine is the best it can be first, then look to other ways to freshen your breath.
Brushing Your Teeth
Most people only brush their teeth for 30 seconds, which is not long enough to clean your mouth properly. For the freshest breath, make sure you:
Brush twice a day
Brush for 2 full minutes
Brush all your teeth & your tongue
Flossing
Brushing is a great start, but it doesn't get rid of the food between your teeth (and this leftover food can cause bad breath). Make sure you floss once per day, in addition to brushing.
Tongue Scrapers & Mouthwash
Brushing and flossing are the core of oral care, whereas tongue scrapers and mouthwash are the extracurriculars. Tongue scrapers are designed to get the most food particles possible off your tongue, and mouthwash can help give you that minty-fresh feel.
Other Tips for Fresher Breath
Quit smoking. Quitting smoking or using other tobacco products eliminates odour and helps keep your mouth healthier overall.
Drink plenty of water. Dry mouth can worsen bad breath, plus drinking water can help remove the food particles that bacteria feed on.
Avoid certain foods. Smelly foods like onions and garlic can linger in your mouth and contribute to bad breath.
Change your toothbrush regularly. You should change your toothbrush every 3 months to prevent bacteria build-up and to make sure it's not too worn out.
Clean dental appliances regularly. Retainers, mouthguards, and dentures can harbour bacteria if not cleaned consistently.
Visit your dentist every 6 months. Your dentist will be able to spot any underlying causes of bad breath, like gum disease.
If your bad breath persists, even with proper dental hygiene, it's time to speak with your dentist. There could be an underlying cause for your bad breath, which your dentist will be able to help identify. Your dentist can also help recommend the right toothpaste or mouthwash for you.