Many parents see a child's baby teeth as disposable. They think that, because they are temporary, they do not require the same level of care and attention as permanent teeth. The truth is, baby teeth are just as important as adult teeth, and allowing them to decay or go uncared-for could lead to long-lasting dental and general health problems.
Beyond that, many of the habits we learn as children stick with us for the rest of our lives. It's important to teach your child how to maintain a good oral hygiene routine when they're young in order to set them up for a lifetime of beautiful and healthy smiles.
Brushing Your Child's Teeth
How to Start
You can start brushing your child's teeth with a soft toothbrush as soon as you can see the teeth past the gum line. You can use a smear of fluoride toothpaste the size of a grain of rice if they can tolerate the taste.
Place the toothbrush at a 45-degree angle with the bristles pointed towards the gums. Using small and light back and forth motions, brush every surface of each tooth for 6 seconds. Once a child is old enough to spit out the toothpaste, increase the amount of toothpaste to pea-size. Remind them not to swallow the toothpaste.
How to Teach Them
You should be brushing your child's teeth until they are about 10 years old. Demonstrate and give them a turn to practice. Then, you'll need to supervise them to ensure they use the right technique and don't cut any corners. Some parents find that egg timers or specific song clips are good tools to ensure kids brush their teeth for long enough.
Make oral hygiene part of your child's morning and bedtime routine every day, so it becomes a deeply ingrained habit that follows them into adulthood. If it all possible, try to ensure it's done approximately the same way and at the same time every day to emphasize the importance of consistency.
What to Use
Regardless of age, it's best to use a soft bristle toothbrush. However, when buying toothbrushes for infants and toddlers, you will need to choose a baby toothbrush, which is even softer. Your child's toothbrush needs to be replaced every 3 months.
Flossing
How to Start
Once your child's teeth start to get closer together, usually around age 2, it's time to start flossing their teeth. Start with a piece of floss that's roughly the length of your child's arm. Then, you'll want to wind the ends around the index fingers on both hands, leaving about an inch of floss between the two. Work the floss between the teeth, wrapping the floss in a "C" shape around the teeth on either side.
Carefully move the floss down past the gum line and rub up and down against the tooth to remove the sticky bacterial plaque. Work the floss back out from between the two teeth, wind the used floss onto one finger, and unwind another inch of floss from the other. Then move on to the next space and repeat the process between each tooth and at the back of each molar.
You should floss your child's teeth once a day before bedtime. If you're having difficulty, try flossing your child's teeth with them laying in bed, as it's easier to see what you're doing. You can floss and then read a bedtime story so it becomes part of your evening routine.
How to Teach Them
Your child should be ready to floss their own teeth around age 10, however, you may still want to supervise them to ensure they're doing the job properly without cutting any corners. Make sure you narrate everything you're doing when you first show your child how to floss so they don't miss any steps.
You may even want to count how many gaps you floss on the top and the bottom as you go. That way, your child can follow along and make sure they haven't missed any spots when they start doing it themselves.
Make sure your child knows that they should ball up their dental floss before throwing it away, and they should never flush floss down the toilet.
What to Use
Some types of dental floss (usually unwaxed) have a tendency to shred, leaving pieces of the floss stuck between the teeth and the gums. Waxed dental floss eliminates this risk.
Your dentist will be able to recommend the best type of floss for your child's teeth.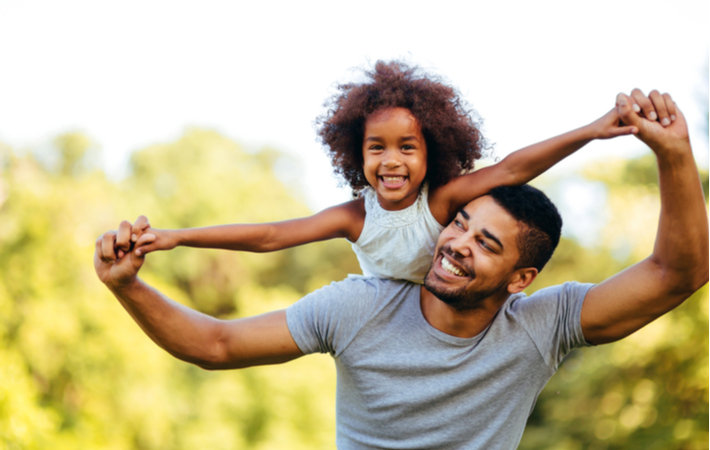 Mouthwash
As a general rule, mouthwash is not recommended for children. However, if your dentist suggests that your child uses mouthwash, there are some rinses designed for children. Children's mouthwash is alcohol-free and usually has a less intense flavour.
Children don't have the most reliable ability to control swallowing. That's why mouthwash is not typically recommended for kids under the age of 6.
Some Children's Oral Hygiene FAQs
Can a Water Flosser or Waterpik Replace Dental Floss?
Over the past few years, water flossers have become a popular fixture of many patients' oral hygiene routine. The device is designed to shoot a concentrated stream of water between your teeth, functioning similarly to dental floss.
Research shows that water flossers can not only replace string floss, but they also appear to be significantly more efficient at removing plaque, reducing bleeding, and even preventing gingivitis when used correctly.
Several water flosser manufacturers also create water flossers for children, which are suitable for kids aged 6 and up.
Are Electric Toothbrushes Okay for Children?
Studies have found that electric toothbrushes perform as well or better than manual toothbrushes in removing plaque. Given that the toothbrush is used correctly and the child is properly supervised, there is no reason your child shouldn't use an electric toothbrush.
How Often Does My Child Need Dental Cleanings?
After your child has an initial dental examination visit, around age two and a half, they may be ready for a dental cleaning. After that, your child will need to come in for a professional cleaning every 6 months, or twice a year.
Sometimes children who have braces or dental appliances need to come every 3 months. This will keep their gums healthy and establish routines that will stay with them into adulthood.
If it's time for your child's next dental exam and cleaning, contact us to book an appointment. We'll be happy to answer any questions you have during the exam to ensure your child is maintaining good oral hygiene.