When it comes to fixing misalignment or gaps in your teeth, you may have heard of one common solution: Invisalign. This form of treatment uses small plastic aligners to gently push your teeth to their desired position and can be obtained with the help of your dentist. But what can you expect from Invisalign?
In the earliest stages of using Invisalign, you may notice some discomfort as your teeth begin to be pushed into place. As you move on to the next set of aligners, you'll begin to notice slight improvements in your smile. And by the time you've finished the treatment, your teeth should be in position.
What Is Invisalign?
Invisalign is a popular treatment for misaligned teeth. While traditional braces use a combination of metal and wire to force teeth back into shape, Invisalign takes a more subtle approach. It utilizes a mix of clear, removable aligners that gently put pressure on the teeth to adjust them to their optimal position.
Each set of these aligners is custom-made to suit your needs and is intended to be worn one after the other in a set series. The individual aligners are designed to be used for a period of 1–2 weeks before moving on to the next, which has a slightly different shape. As time passes and you move throughout the set of aligners, your teeth naturally begin shifting toward the desired positions.
This is an ideal solution for mild to moderate dental issues, like a slightly crowded mouth or a mild underbite. It's important to note, though—every person's case is different, and there are no guaranteed results. You should always speak with your dentist before beginning any form of treatment so they can determine the likelihood of its success.
This can be a convenient solution for many tooth alignment issues, as you can simply remove the aligners to brush your teeth, eat, drink, and floss. Then, you can pop them back in and let them keep helping align your teeth.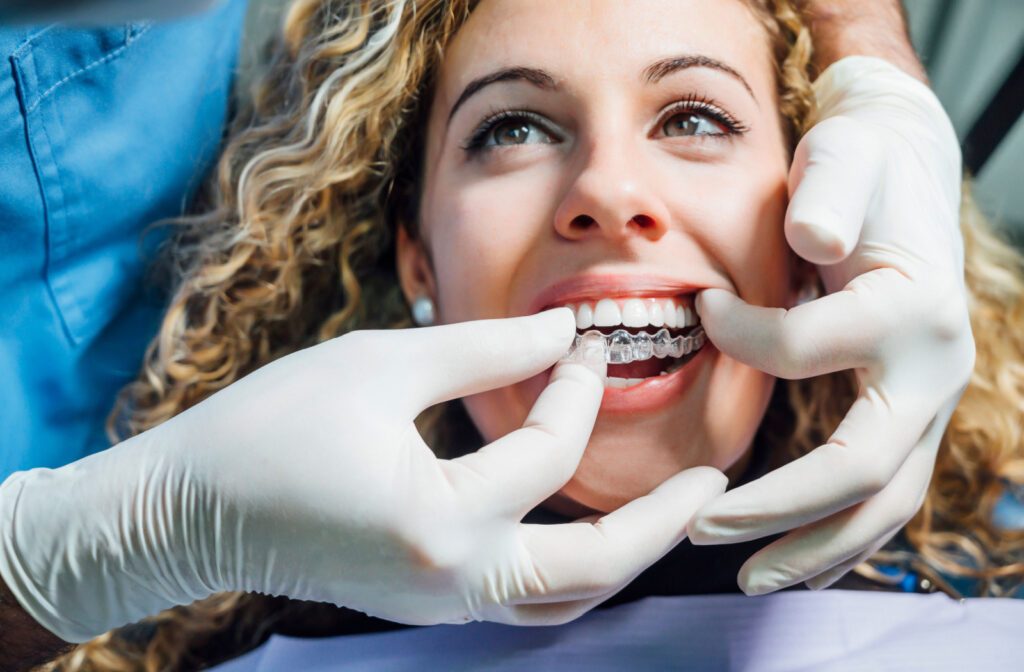 How Do You Get Invisalign?
Fortunately, the process of getting Invisalign is often easy. It begins with a visit to your dentist.
They can perform a thorough consultation with you and a proper examination of your mouth. They can check your teeth, take X-rays, and may even take a digital impression or physical mould of your mouth.
This is done so they can create a customized treatment plan for you. Every person's mouth has its own unique characteristics and challenges, and Invisalign aims to create a custom solution for your needs.
Once the impressions are taken, the orthodontist will use specialized software to map out the movements needed to align your teeth to the desired result. Then, the aligners can be produced.
Once they're ready, you'll receive the first set from your dentist. They can explain what to expect next from the process and give you specific instructions on how to achieve desired results. You'll need to wear each set for 1 to 2 weeks and change them according to the schedule your dentist provides.
Throughout this treatment, your dentist can recommend periodic checkups to monitor your progress. This also gives them a chance to make adjustments if needed, so you can know you're in good hands.
How Long Does Invisalign Take to Work?
This treatment, while effective, can take anywhere from a few months to a couple of years to complete. For milder cases of misalignment, you can typically expect results around 6 months or so. However, if you're experiencing a more complicated dental problem, the treatment can take longer.
The success of this treatment also depends on how committed you are to wearing them. For peak results, you should wear the aligners as much as you can—or as often as the dentist recommends. If you spend more time with the aligners out rather than in, your teeth won't have the pressure to shift into another position, which can make treatment take much longer.
How Long Does it Take to See Results from Invisalign?
Typically, you'd notice slight results within the first few weeks of beginning treatment. During this time, you may notice some mild discomfort or pressure in your mouth as your teeth begin to shift. This is a good thing, though—it's a sign that the treatment is beginning to work.
As you move on to the next set of aligners, and the next, and the next, you'll likely notice more drastic results. By the end of the first few months, most people notice significant improvements in their smile.
And fortunately, if you're worried in any way about how the treatment is going, you can visit your dentist and ask them to check on your progress.
Where to Learn More About Invisalign
At Otara Dental, we know how important your smile is to your life. And it isn't just cosmetics—healthy teeth and gums are important, and it's essential to do everything you can to keep your mouth healthy.
Invisalign can be a convenient way to fix several dental problems, and the aligners are easy to remove, making oral care much more convenient than traditional braces. To speak with a caring dentist about the potential of Invisalign, book an appointment with us today.