If you have a broken or largely decayed tooth your dentist may recommend getting a dental crown. But what is a dental crown? What does a dental crown do? How do you know it's the right treatment option for you? At Otara Dental we're well versed in everything related to dental crowns.
Here's everything you need to know about dental crowns before you get one.
What is a Dental Crown?
A dental crown is best described as a hollowed-out artificial tooth that is made to fit completely over a damaged or decayed tooth. Covering a tooth with a dental crown can be used to restore its shape, appearance and function while protecting it from further damage. It is like a helmet for your tooth!
Materials Used
Dental crowns can be made with different types of materials depending on your individual dental needs and preferences. Types of dental crowns include:
Porcelain
Metal
Ceramic
Zirconia (looks like a porcelain crown but is much stronger like a metal)
Composite resin
A combination of the above materials
Types of Dental Crowns
If you need a dental crown you will receive two types of crowns: temporary crowns and permanent crowns.
Temporary crowns are used as a temporary solution while waiting for your permanent dental crown to be made. Temporary crowns are made in your dentist's office and usually take about 1-2 hours to prepare.
.Unlike temporary crowns, permanent crowns are made in a dental laboratory and are the long-term solution. Permanent crowns generally take a few weeks for your dentist to receive, which is why a temporary crown is necessary.
When is a Dental Crown Needed?
Dental crowns may be used if you:
Have a decayed or damaged tooth that needs protection
Have a broken or worn down tooth that needs to be restored
Have misshaped or severely discoloured teeth
Want to make a cosmetic modification
Have a tooth with a large filling
Have a dental bridge that needs to be held in place
Have a dental implant that needs to be covered
If you suffer from any of the above dental conditions, book a dental exam to discuss your concerns and options with your dentist.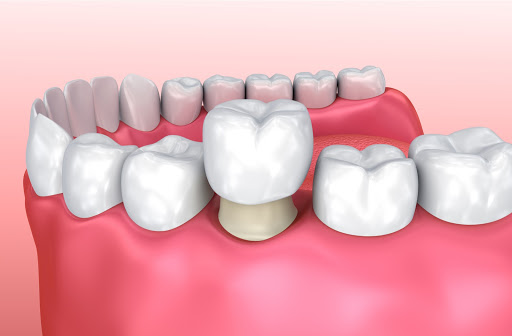 The Dental Crown Procedure
Before starting the procedure, your dentist will choose which material is best for you. Your dentist will consider the following factors:
The location of the tooth that requires the crown
The degree of damage or decay affecting the tooth
The colour of the surrounding teeth
The function of the tooth that needs the crown
Your personal preference
After the crown material is selected, your dentist will begin your procedure. A dental crown procedure occurs in two steps: preparation and placement.
Step 1: Preparation
During your first visit, your dentist will examine and prepare your tooth for your dental crown. This involves:
Taking X-rays to check the roots of the tooth and surrounding bone
Numbing the tooth and the gum tissue around the tooth
Reshaping the tooth to make room for the crown
Making an impression of the tooth that will be crowned and the surrounding teeth that will be affected
Placing a temporary crown to protect the tooth while the permanent crown is being made
Step 2: Placement
After your permanent crown arrives, your dentist will be ready to place the crown. This involves:
Removing the temporary crown
Numbing the tooth and the gum tissue around the tooth
Placing the crown and permanently cementing it in place
Dental Crown Care
Caring for a Temporary Crown
Because a temporary crown is not permanently attached to the tooth, there are extra precautions you should take to ensure it stays in place. To take proper care of your temporary crown you should:
Avoid chewy and hard foods that could displace your temporary crown
Avoid chewing on the side of your mouth that has the temporary crown
Be careful when flossing to avoid catching and pulling the crown
Caring for a Permanent Crown
A permanent crown doesn't require any special care as it is made to function as a normal tooth.
Because it functions as a normal tooth, and still has your natural tooth underneath it, it still requires normal oral care. To protect your crowned tooth, brush twice daily, floss daily, and make sure to get regular dental exams.
Possible Complications
Your dental crown is used often and can undergo wear and tear that may cause complications. Some complications that you may experience with a dental crown include:
Discomfort or sensitivity, especially when the crown is new
Damage to the crown (most common with porcelain crowns) in heavy clenchers and grinders
Some teeth that need crowns also need a root canal before or after the crown is completed
If you experience any of the above complications, book an appointment with your dentist. Most of these issues can be solved by refitting the crown or changing the material of your crown.
How long do dental crowns last?
Dental crowns can last anywhere from 5 to 15 years and often longer, depending on the material, the placement, the degree of use, and your oral hygiene practices.
If you have any concerns or questions about dental crowns, book an appointment with us today.