Flossing is just as important to your dental hygiene as brushing, but there may be points in your life where using traditional floss may not be as easy to use as it was before. This could happen after aging or getting specific dental work, but water flossing can be an effective alternative to traditional flossing.
Water flossing is becoming increasingly popular thanks to its ease of use and Canadian Dental Association-approved effectiveness, but some patients are wondering: can it help remove tartar?
Today, we will answer this question and look at how water flossers can help support your oral health. However, for the most relevant information regarding your or your loved one's dental needs, it's always best to speak to a professional first.
Get started today by requesting an appointment at Otara Dental, or read on to learn more about water flossers and how they can help keep your smile healthy and clean!
Plaque, Tartar, & Gum Disease
Before we look at water flossers, though, let's catch up on why brushing and flossing are so important.
Throughout the day, the food and drinks you consume can accumulate particles on and in between your teeth. These particles contain bacteria that form plaque, a yellowish film that coats the outer layer of your teeth. If you don't remove the plaque with brushing and flossing, it can harden into tartar.
The bacteria in plaque and tartar eat away at your tooth enamel over time as well as irritate and infect the gums. Eventually, if left untreated, tartar and plaque may lead to gum disease or even an infection that needs to be treated with a root canal or tooth extraction.
To help prevent these issues from developing, you need to remove any plaque or tartar. But how?
So, Can Water Flossers Remove Tartar?
Now, let's answer the million-dollar question: no, water flossers can't remove tartar. Not even regular flossing can remove tartar. Professional cleanings are the only way to remove tartar before it can damage your teeth or lead to infection.
During a professional cleaning, your hygienist will use a scaling tool to scrape away hardened tartar on and in between your teeth and below the surface of the gums. If you've been keeping up with a thorough brushing and flossing routine, you can significantly reduce the amount of tartar that can build up on your teeth over time.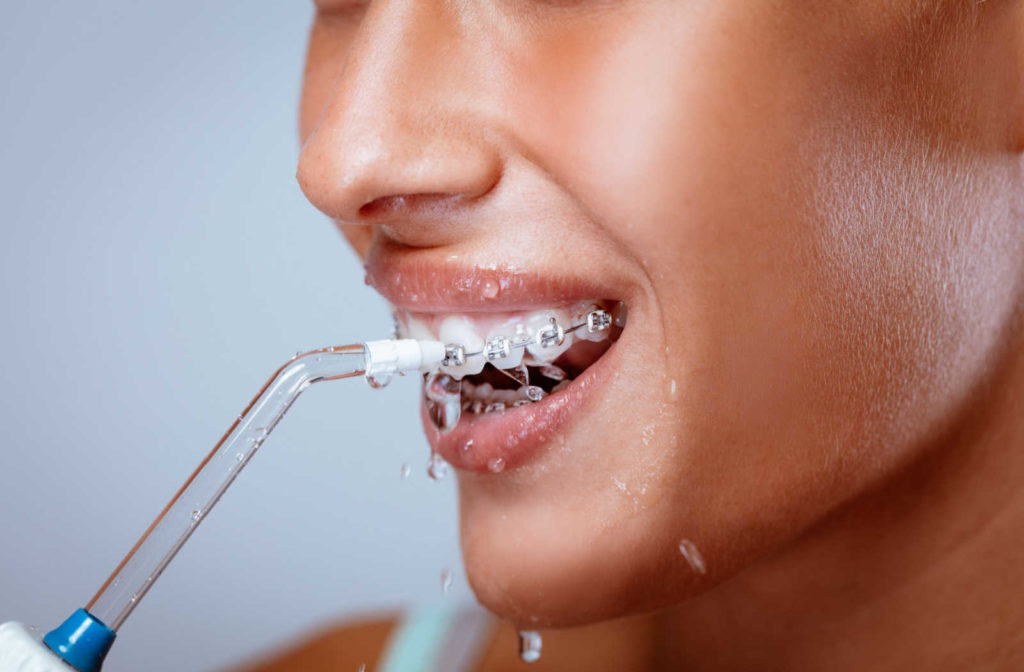 When To Use a Water Flosser
Water flossers are a great way to help remove plaque buildup on your teeth and around your gum line, but there are instances where a water flosser may be a more practical choice when compared to traditional flossing.
You could combine traditional and water flossing techniques for the most comprehensive cleaning. However, please speak with your dentist first to learn which strategies may be best for your oral health.
You Struggle with Traditional Flossing
If you have arthritis or just have difficulty maneuvering traditional floss, a water flosser can make it easier to clean away food particles in between your teeth before and after brushing.
You Wear Braces or Other Dental Appliances
Water flossers can also make it easier to clean food particles from your teeth if you wear some form of dental appliance. We may recommend a water flosser if you have:
A water flosser is a little more gentle on your gums than traditional floss, reducing how much your gums may bleed after flossing.
What Kind of Water Flossers Are There?
There are a few different types of water flossers available, and your dentist can help recommend a certain type when you come in for an appointment. In most cases, water flossers can come with various head attachments to help floss different areas of your teeth, but the overall principle is safe and easy to use.
Some water flossers come attached to a countertop tank, which gives you the most tip options and pressure levels, but you could also use a cordless flosser depending on your needs and budget.
For a Professional Cleaning, Call Us Today!
While water flossers may help clean away food particles and plaque from your teeth, they are still no substitute for professional cleanings.
We recommend having a comprehensive dental exam and cleaning every 6 months. Examining and cleaning your teeth can detect and possibly prevent potential issues from developing over time.Get help managing your oral health and request your next appointment with Otara Dental today. We can't wait to help you achieve the head-turning, healthy-looking smile you deserve!